Transitional Raw Food Recipes for August 2011
July 31st, 2011
Transitional Raw Food Recipes for August 2011
August is ripe with delicious fresh produce to help you beat the heat. Fruit is abundant this month with stone fruits such as peaches, apricots and nectarines as well as raspberries, and of course, watermelon. You will also find fresh basil and a rainbow medley of bell peppers begging to be used in your raw creations.
Recipe of the Month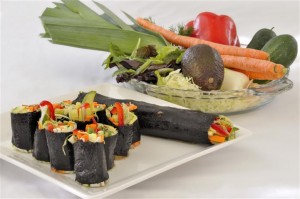 Easy Nori Rolls
This recipe is adapted from my Beautiful on Raw: unCooked Creations. This easy version of the "sushi" rolls can be made very quickly and doesn't even require a food processor.
Ingredients:
1 medium bell pepper, cut into long thin strips
6 raw nori sheets (sun-dried)
2 large carrots, cut into long thin strips
2 cucumbers, cut into long thin strips (English cucumbers work well for this recipe)
2 avocados, cut into long strips
6 green onions
sea salt to taste
Place a green onion and a thin strip of each of the other ingredients on one end of a nori sheet. Starting with the edge closest to you, using both hands, gently roll each nori into a log. Moisten the outer edge of the nori sheet with water to help seal it. Repeat procedure for all the remaining nori sheets. Cut the rolls into cylinders 1-inch long. Serve. Will keep refrigerated 1–2 days.
Serves 3
Stone Fruit Blitz
These fruits blend perfectly into a tantalizing green smoothie for hot summer days. Measurements are easy to remember: 2 of everything!
Ingredients:
2 peaches, pitted
2 nectarines, pitted
2 apricots, pitted
2 leaves of Swiss Chard, stems removed
2 stalks of celery
2 Tablespoons of ground flax
2 hungry people
Blend the first 6 ingredients in a blender until smooth and pour into 2 tall, chilled glasses. You may wish to add a half cup of water prior to blending if you prefer a thinner consistency.
Serves...you guessed it....2!
Pasta with Creamy Basil Sauce
Perfect for that 'late-lunch-early-dinner' afternoon meal
Ingredients:
2 medium zucchini
coconut water from 1 young Thai coconut
1 bunch of fresh basil
1 cup of soaked pine nuts
juice of ½ small lemon
1 handful of fresh spinach
pinch of Celtic sea salt, optional
garnishes: sundried tomatoes, diced bell peppers, raw olives, fresh herbsdusting of paprika
powder or rosemary
Peel the zucchini and make into pasta shreds with a spiralizer or use a vegetable peeler to make long strands resembling fettuccine pasta. Blend the remaining ingredients in a blender until creamy, adding enough coconut water for desired consistency. Place zucchini strands in a serving bowl and top with the creamy basil sauce you just made. Garnish as desired.
Serves 2-4
Rainbow Stripe Salad
A very simple and colorful salad that makes raw food look as good as it tastes. Dress with any of your favorite raw dressings just before serving.
Ingredients:
4 cups mixed baby greens or spinach
1 of each color of ripe bell peppers; red, orange, and yellow, seeded and sliced into thin strips
1 cup shredded basil
2 cups shredded purple cabbage
1 cup grated beetroot
Divide greens in half and place on two serving plates for your base. Arrange remaining ingredients in the order given, side by side on top of each of the beds of greens. As you can see, your plate now resembles a rainbow! Decorate the edges with nasturtium blossoms, also in season now, and dress with your favorite raw dressing. Here is one suggestion if you don't have a favorite yet:
1 avocado, peeled and pitted
juice of 1 orange
handful of chopped cilantro
pinch of Celtic sea salt, optional
Whiz in blender or food processor, or simply mash and whisk thoroughly with a fork. Drizzle over salad just before serving
Serves 2