January 2012 Rawsome Recipes!
January 5th, 2012
January 2012 Rawsome Recipes!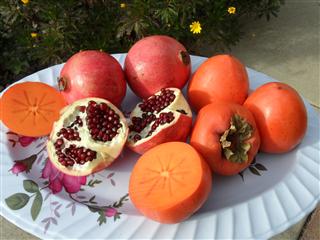 Happy New Year to one and all! During January in your local produce section, you will likely find that persimmons and pomegranates are still commanding center stage and are joined by wintry favorites such as navel oranges, collard greens and parsnips. If you could peek into my kitchen, you would see about 60-70 persimmons ripening, each at their own speed. My favorite is the Hachiya variety, the kind that is shaped like an acorn. You should eat the Hachiya when they are very soft and start to look like they're just about to go bad. Once they reach this stage, they are so amazingly sweet, the taste will remind you of marmalade! When making the recipes below, I suggest cutting off the top and then scooping out the flesh of the ripe persimmon using a spoon.
Persimmon Shake 
Feeling, protein rich and delicious!
Ingredients:
1 large Persimmon, extra ripe (may substitute 2 bananas)
1 young Thai coconut (just the coconut water or you can use the coconut meat as well)
2 Tbs. hemp seeds
Blend until smooth in a blender.
Serves 1
Persimmon Pudding
Your children will love it and you'll feel like a child again having this out-of this world desert.
Ingredients:
1 large Persimmon, very ripe
½ avocado, pitted and peeled
1 young Thai coconut (coconut water only)
Blend until smooth in a blender. Place in the refrigerator for a while before serving.
Serves 1
Bowl of Pomegranate Seeds
If there is something I like more than persimmons, it would be pomegranates. Every night I peel 1 large pomegranate, remove the seeds and place them in a bowl in the refrigerator for a wonderful snack next morning to chew on before or after hot yoga. Just chew them up, enjoy the flavor and spit the seeds out when you're done.
If this doesn't look like a real recipe to you, it is still the best snack you can have. Plus, my main goal is to encourage you to eat as simple as possible.
Classic Energy Soup
If you are avoiding fruit sugar for any reason and want something easy, filling and nourishing you might try this raw healing soup made famous by Dr. Ann Wigmore. You can adjust the ingredients and seasonings to your own liking. The possibilities are endless, but here is the basic version:
Ingredients:
2 cups Rejuvelac (use vegetable juice if you don't like Rejuvelac)
1 green apple, cored
1 avocado, peeled and pitted
½ red
pepper 1 Tbs. dulse flakes
1 handful of spinach or 1 large collard leaf, stem removed
1 handful of fresh sprouts, such as alfalfa or sunflower
Blend until smooth and pour into a soup bowl. Garnish with spices such as cumin and chili powder, chopped vegetables, sprouts, whatever you fancy. I have even drizzled my favorite raw salad dressing on top.
Serves 2
Zesty Collard Wraps
Spicy wraps reminiscent of Italian food when you want something to chew on.
Ingredients:
4 large collard leaves
1 Tbs. lemon juice
1 Tbs. Celtic salt
1 parsnip, peeled and coarsely chopped
½ cup pine nuts, soaked and rinsed
½ cup sun dried tomatoes, soaked
¼ cup fresh basil and oregano
Marinate the collard leaves in lemon and salt and enough water to cover overnight. Next day, rinse and drain and dry on paper towels. Lay the collard leaf flat on a cutting board and slice down both sides of the stem to remove it. Overlap the edges of the leaves where you cut so that they are 'back together again' and form one whole collard leaf.
In a food processor, pulse the parsnips, pine nuts, soaked tomatoes, and herbs until crumbly. Add a pinch of sea salt if desired. Spoon a couple of tablespoons of this filling onto the middle of the overlapping collard leaves and roll up burrito style, securing the end with a toothpick if needed. Serve with raw marinara sauce for dipping.
Serves 1-2