June Transitional Raw Food Recipes
May 31st, 2011
June Transitional Raw Food Recipes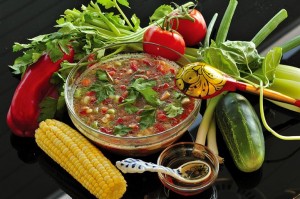 In June raw food enthusiasts everywhere can delight in a variety of fresh, ripe produce beckoning us into the kitchen to create some delicious dishes! This includes apricots, cherries, figs, herbs such as basil, parsley and cilantro, young carrots and cauliflower. Enjoy these tempting creations and don't forget that when you make and eat raw foods, you can improvise and substitute as desired; it usually always turns out scrumptious. This is a picture of my favorite summer soup: Gazpacho!
Raw Gazpacho Soup
This cool soup is excellent if you are living in a particularly hot and humid area!
Ingredients:
2 cups fresh tomato juice
1 cup cucumber juice
1/2 cup celery juice
juice of 1 lemon
Collect all above juices in a bowl, then add:
1 cup red bell pepper, diced
1 medium cucumber, diced
3 scallions, minced
2 cups tomatoes, freshly diced
1 cup fresh corn kernels (cut them right off the cob)
1 Tablespoon raw honey
Celtic sea salt and cayenne pepper to taste
1 Tablespoon cold-pressed Olive Oil, optional
Serves 2-4
Summer Promise Smoothie
This can double as a green smoothie or a dessert. It's that good!
Ingredients:
Juice of 2 oranges
4 ripe apricots, pitted
4 fresh figs, chopped
1 cup macadamia nuts, soaked
2 Swiss Chard leaves, stems removed
Place all ingredients in a blender and blend until smooth, adding more orange juice or coconut water if needed to obtain the desired consistency.
Serves 2
Herbal Toss-Up
Light and zesty, this dish will wake up your taste buds to the freshness of summer
Ingredients:
4 cups fresh mixed greens (Arugula is a nice addition too)
½ cup of fresh basil, roughly chopped
½ cup fresh parsley, roughly chopped
½ cup fresh cilantro, roughly chopped
1 cup cherry tomatoes
2 avocados, peeled and pitted
juice of 1 lime
juice of ½ lemon
pinch of chili powder
1 carrot, freshly shredded
dash of Celtic sea salt, optional
Toss mixed greens with fresh herbs and cherry tomatoes and place on two salad plates. Blend avocado with the lemon and lime juices, salt and chili powder in a blender to make a dressing. Drizzle over the salad. Garnish with shredded fresh carrots.
Serves 2
Cauliflower Soup
Incredibly easy and satisfying
Ingredients:
2 cups of freshly squeezed carrot, ginger, and celery juice
2 cups cauliflower, roughly chopped
1 avocado, peeled and pitted
½ to 1 cup of young coconut water
1 red pepper, seeded and diced
small handful of fresh cilantro
dash of curry, optional
pinch of Celtic sea salt, optional
Save half of the red pepper and cilantro for garnish and process the rest of the ingredients in a blender or food processor until smooth and creamy. Pour into two soup bowls and garnish with red pepper, cilantro and spices.
Serves 2
Cherry Chia Madness
Call it what you will, but eat it you must! This recipe can be made ahead and eaten later in the day.
Ingredients:
1 cup soaked raw nuts, any kind
3 or 4 cups of fresh coconut water
½ cup chia seeds
2 cups fresh dark cherries, pitted
2 Tablespoons of raw honey
dash of cinnamon or nutmeg
Blend nuts and coconut water together in a blender and strain to make fresh nut milk.( Save the pulp for another recipe later.) Add the chia seeds to the fresh nut milk and allow to soak for at least half an hour. (This is a great time to do your Rawsome Flex routine!) Add the remaining ingredients and stir gently. Place into two bowls and serve garnished with a chopped banana. Heavenly.
Serves 2