Yoga for Your Face and Hair
---
Published: (February, 2015)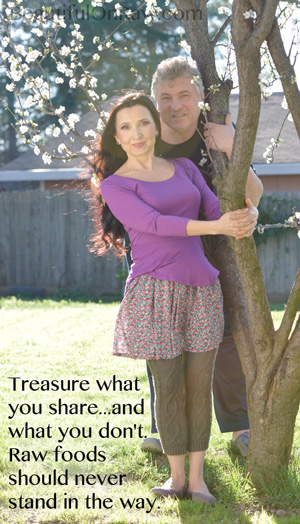 Yoga for Your Face and Hair
In this video, I demonstrate one of the exercises from my book Rawsome Flex. Do this exercise with me, won't you? Stick it out: all of two minutes. 
You'll get two benefits in one. It's yoga for your face and your scalp. It's great for stimulating your hair roots. This exercise will also bring a lovely flush to your face for an improved complexion and better hair growth.
I think you're going to love this enjoyable little exercise. If so, then for continued results, do it daily. 
Yoga for Your Face and Hair
"Skeptical about the raw food lifestyle"
An interesting email came:
I'm now getting skeptical about the raw food lifestyle. You put so much work into looking so good. Yet if raw food were the answer, you wouldn't need to. If the body were regenerating on raw foods like you say, there'd be no sagging muscles that need a workout, etc. There must be a way to reset the DNA or help it to work backwards. It's hard work to keep yourself looking good. I believe it shouldn't be once you've found the 'switch button.' Working so hard at looking young just shows we work against the clock, not with it. Going with the flow should be the answer, not against the flow. The solution should be simpler...
You're not alone in believing in such a 'switch button.' This quest for eternal youth has a long and colorful history - mostly one of searching for some sacred elixir that might activate 'time-reversing' processes in the body.
The belief that there's a magic 'aging button' - a hormone or a gene - is still alive and well. That belief started a whole branch in science called gerontology. They want exactly that - to find an easy way to achieve anti-aging. The gerontologist's dream is to develop a drug which will produce aging retardation. They, too, don't want to do what seems like hard work: dieting, exercising, and taking care of your skin.
I'm a go-with-the-flow girl myself, as you are. Just not in the same way. For me, going with the flow means doing what's natural: eating the best, most nutritious food, exercising, and helping out the body's own innate preventative measures. If a lifestyle can give twenty years of marked advantage compared to the population at large, I'll run with it.
I agree with you - the anti-aging benefits of even the healthiest lifestyle have limits.     
So I've started to look for new ways to extend even this twenty-year gap. I believe I have found some answers - things that even the right food, good exercise, and beauty tools can't deliver.     
That's what my new book, The Quantum Key: Solving Life's Problems, is all about. More information in my upcoming newsletters.