Facial Exercises Book: Rawsome Flex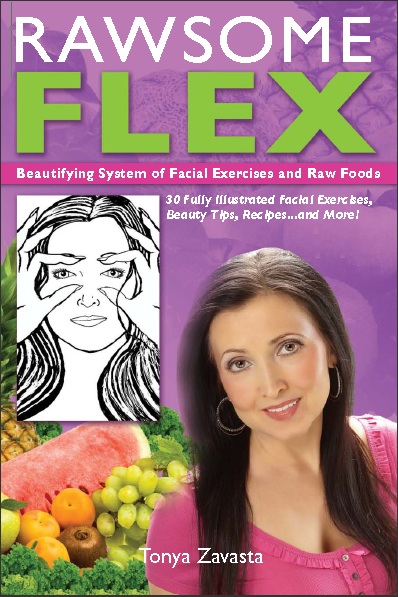 Face it! ... Your face is your fortune … or your frustration. That face in the mirror—is it all you want it to be? All it could be? 
Your face is you … Your face reflects how you feel. Let's get honest—how are you feeling? Aging? ... Tired? ... Sad? ... Distressed?
Whatever you're seeing in the mirror, the Rawsome Flex System will help you improve what you—and others—see. Tonya Zavasta's experience and research bring you 30 carefully designed exercises, with illustrations and practical tips. Her 21-day regimen will help you build a healthy lifetime habit that achieves incredible results.
Tonya Zavasta's unique Rawsome Flex System offers a better look, a better self-image to every woman—or man!—who feels the need to look their best. Sculpted abs … trim triceps … taut buns—any gym, any sound exercise program can bring you those. Your facial muscles, as much as or even more than body muscles, can sag, bag, droop, and go all-over wrinkly. Facial exercises improve your face just as other exercises improve your physique—only faster and more dramatically.
The Rawsome System will literally sculpt your face. Tonya's system will slim your face … give you that glowing look … reduce wrinkles … eliminate or greatly reduce pouches, double chins, jowls … give you that "high cheek bones" look you've always wanted.
Facial exercises are excellent, but they are only part of the whole beauty equation. Your challenge is to make your mature skin respond the way your young skin once did. By eating raw foods, you'll help your system work as efficiently as a much younger person's. You'll attack the aging process internally with raw foods … externally with a total exercise regime—body and face. The result—slower aging. Tonya's Facial Exercise plan will get you looking 10 years younger … raw foods another 20 years younger. Starting today.
Face it—you've nothing to lose and lots of youth to gain. Here's the book you want … for the look you want. Exercise the right choice … Go ahead—make your move.