GlaciClear: Facial Masque with Turmeric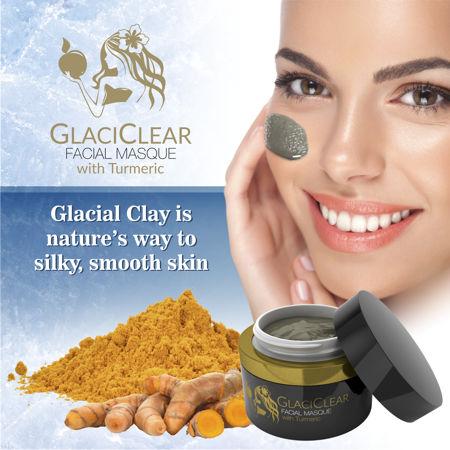 * Clears
* Purifies
* Firms
* Lifts
* Nourishes
From the fresh, clean glacial rivers of Canada's Rocky Mountains comes the newest, most innovative product on the skin care market today. Since the last Ice Age, British Columbia's rushing rivers have carried the minerals of igneous rocks toward the Pacific, grinding them into the ultra-fine particles of our Canadian Marine Glacial Clay. 
There are new trends in facial masks that I don't want to miss.Hence…I'm introducing this new masque:  GlaciClear Facial Massque with Turmeric  .
Rich in mineral, this is the purest clay in the world, mined from pristine prehistoric formations.
We've added turmeric, an outstanding ingredient for dealing with skin blemishes. Turmeric offers solid anti-inflammatory, antiseptic, and antibacterial properties.
Adding aloe vera, green tea, and chamomile extracts brings still more nourishing benefits to your skin.
Hi Tonya, I tried the new mask today. I am very pleased, the texture, the scent and the way it leaves my skin is spectacular. Thanks for sharing another great product. Thanks, -G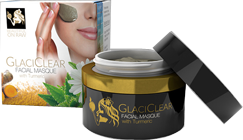 ​​​​​​​GlaciClear, our Facial Masque with Turmeric, better than any product we know, helps you by:
deep cleansing, absorbing excess oils and impurities
assisting in clearing skin blemishes
soothing skin irritations
moisturizing and hydrating your skin
brightening your complexion
achieving a more even skin tone
tightening pores for a silky smooth texture
improving blood supply to your skin's surface for cell regeneration and repair
GlaciClear will leave your skin feeling fresh and clean with a healthy, radiant glow.
Directions for use:
Apply a thin layer to clear skin.
Leave on for 5-10 minutes.
Rinse off with warm water and a soft brush.
Finish by applying a moisturizing cream.
Ingredients: Aqua, Canadian glacial clay, glycerine, aloe barbadensis (aloe vera) leaf juice*, curcuma longa (turmeric) root extract, matricaria recutita (chamomile) flower extract*, camellia sinensis (green tea) leaf extract*, olea europaea (olive) leaf extract*, acrylate copolymer, citrus aurantium dulcis (orange) oil, caprylyl glycol, iodopropynyl butylcarbamate, phenoxyethanol.
*=certified organic
Acrylate copolymer is a thickening agent. Acrylates of various sorts are extremely common "gelling agents" used in cosmetics, and they produce gels of superior texture and stability. 
Iodopropynyl butylcarbamate, and phenoxyethanol are preservatives. Each formulation has unique preservation requirements. We use the preservatives which with the smallest possible amount will provide the safest customer experience.
Caprylyl glycol is a skin-conditioning agent and moisturizer that also has beneficial anti-microbial properties, which allows it to assist the other preservatives in keeping microbial growth to a minimum.
If you are a veteran of masquing, then you'll love this new product. GlaciClear Masque with Turmeric will please those of you who feel the tease of time. But it should delight the younger among you as well. Younger folk will find it effective in dealing with acne and other skin blemishes, thanks to the presence of turmeric in this new product.
Does GlaciClear Masque Have a Preservative?
Here's an email I've just received from one of my newsletter subscribers: I have a policy—I don't put anything on my face that I can't eat. So what's in your mask?
Wonderful policy! I applaud you. No one, I assure you, abhors processed food and preservatives more than I do. I do not eat anything from a box,  container, or bottle, and I'll be the first to advise that you  should always prepare your own food. Still, we all have to draw the line somewhere. I draw mine at making my own  cosmetics.  I find that a good commercially made mask or cream works well in conjunction with  my stringent eating regimen. 
Keep in mind, every commercial versus homemade mask that contains water in order for it to have any shelf life it will contain some sort of preservative and a stabilizer. And here is why…
Please, read these two articles carefully: The Real Truth About Cosmetic Preservatives and  Myths About Cosmetic Preservatives .
I have a policy, too: I won't offer for sale any product I won't use myself. But if you insist on having mask you can eat, for you, the best way for you to go is to buy turmeric in a powder and mix it with water.  Here are some more recipes for facial masks you can make at home: Homemade Cosmetics.