Volumizing Shampoo & Revitalizing Conditioner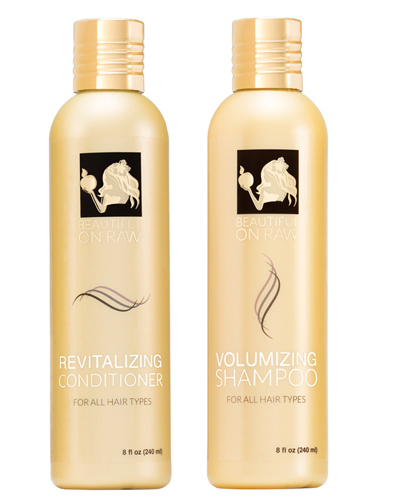 Beautiful on Raw Volumizing Shampoo and Revitalizing Conditioner
***Original Formula, but now with Lavender and Citrus scent***
Hair needs to be healthy and strong if it's to look and feel beautiful. It's an inside-outside thing ... A raw food diet creates healthy hair from the inside, but adding proper hair care products to the outside brings the healthiest tresses imaginable. The right combination can make you feel radiant and confident.
Available at my online store (each bottle is 8oz/240ml).
Searching Land and Sea for the Perfect Ingredients
You'll notice my shampoo and conditioner contain more ingredients than the average similar products. Why? Because I wanted these products to include everything known to deliver shine, volume, softness and manageability to hair while still being as pure and natural as humanly possible.
Along the way, I found one valuable herb that helps prevents premature graying. My list of ingredients was already too long, but how could I resist an ingredient credited with preventing graying hair? Then I discovered that the powerful antioxidants in White Tea deactivate free radicals and oxidants resulting in healthier, shinier hair after just one use! Of course, I had to add that, too.
I would get a formula down pat, use it with great satisfaction, then find yet another indispensable ingredient. Every time it just got better, until finally I was happy... very happy. After two years of diligent searching, and much trial and error, I finally put all the ingredients together and came up with my dream formula for both shampoo and conditioner. Together, they have it ALL! If you are familiar with my other products - and if you're not, now is your chance! - then you already know I offer nothing I don' t use myself.
Dear Tonya, thank you so much for such a wonderful shampoo and conditioner. It's just unbelievable! Never tried anything better in my whole life! It smells great, my hair looks great and I feel great. You are genius! God bless you! From now on I will recommend it to all my friends.
— Irina

I love Tonya's shampoo and conditioner, it is wonderful! My hair seems shinier than it has been, loving it!
— Gail
There are some ingredients we cannot avoid in order to get a quality product. Foaming agents are an example. (Scary name, it sounds so "chemical." Don't worry.) Finding those unavoidable ingredients while keeping a pure, healthy formulation was a tough part of my mission. But find them I did. I finally chose foaming agents that were also used by one of the most ecologically sound companies, Earth Baby Organics. I was comfortable knowing that if it was pure enough to meet their stringent standards for baby products, it would be pure enough for my hair care products.

Learn all about the ingredients by clicking here.
Thanks so much for the shampoo/conditioner! I received them last night and tried them this morning. All I can say is ... WOW!
I thoroughly enjoyed using them and I didn't use any styling products on my hair at all; I just let it air dry and pinned it back in a clip. It's so shiny and sparkly!! And it is so soft, like silk, I keep running my fingers through it. I can't help it!
This stuff is amazing. You have nailed it. It produces the most incredible rich lather. Hmm, I think I am going to try a squirt and make a luxurious bubble bath tonight! Big thumbs up!
— Kelli
How is my shampoo different?
I've developed a creamy, moisturizing shampoo that works for all hair types. I don't like clear shampoos. They seem to strip the hair of its oils. So I went for a creamy one. Beautiful on Raw Volumizing Shampoo is not harsh or soapy and does not strip the hair of its oils, as so many others do. The ingredients will cleanse and protect without leaving a soapy feel, yet without that harsh drying effect. In fact, this richly formulated shampoo feels almost like a conditioner in itself! Apply it to the roots of your hair and rub it in well. Then apply a quick burst of water. While the water is running down the hair shaft, massage the hair to remove any dirt and grime. Rinse well. Follow with conditioner.
The shampoo rinses easily, without leaving residues on hair shaft or scalp. This helps keep your hair beautifully conditioned and in perfect pH balance. Having the right pH balance is especially important if you color your hair, as an imbalance can have a tendency to strip some colors or make others appear brassy. I pulled out all the stops, loading this formula with every hair-beautifying herb and exotic oil I could find from all over the globe - from simple plant-based antioxidants to ancient Ayurvedic oils from India. If it's not in my shampoo, you probably don't need it!
With Beautiful on Raw hair care products, you'll also not be subjected to things you definitely don't need. Some shampoos contain a foaming agent called sodium laurel sulfate (SLS), which can irritate your scalp. Worse, many shampoos instead use sodium laureth sulfate (SLES), which, while avoiding irritation, leaves behind two carcinogens: ethylene oxide and 1, 4-dioxane. You'll find nothing like SLS or SLES in my formula - instead I include gorgeous, exotic and effective cleansing and nourishing ingredients, including extracts of milk thistle, saw palmetto, amla fruit, and Ayurvedic oils. The result... clean, shiny, healthy hair, ready for the final touch of a luxurious conditioner.
Dear Tonya, 
The experience of shampooing with your new shampoo and conditioner is wonderful — pleasurable in every way, especially with the extra creamy conditioner. But the results are even better. I'm amazed at the silky, springy feel.
— J.
How is my conditioner different?
I thoroughly researched the most common complaints and drawbacks of conditioners, and formulated mine accordingly. By far the biggest problem with most conditioners is that they weigh the hair down, making it appear waxy, lifeless.
Moisturizing is the key. For best results, you want an ultra - moisturizing conditioner. Beautiful on Raw Revitalizing Conditioner more than fills the bill, containing such ingredients as coconut oil and shea butter, which will help restore shine and luster to dull, coarse, unmanageable hair. The conditioner is rich in organic tropical fruit extracts to create an incredible shine on even the dullest locks.
My conditioner is very rich in natural oils but will never leave your hair feeling oily. Contradiction? Not at all. This product is not heavy so it does not pull down the hair. Instead, it offers deep conditioning with each washing, and will increase the shine in your hair by sealing the cuticle. Shea butter lightly coats the hair shaft, trapping water inside. If the cuticles are ragged, then your hair will not shine. Beautiful on Raw Revitalizing Conditioner adds shine, protects hair from drying, and allows for easier combing. It will leave your hair soft and shiny, adding volume but not weighing the hair down. To get the most benefit from this conditioner, be sure to concentrate more on the shaft and the ends, when applying, instead of the roots.
What are the Ingredients?
Beautiful on Raw Volumizing Shampoo and Revitalizing Conditioner contain the world's finest ingredients for healthy, strong, beautiful hair. What we haven't added is important, too. Our shampoo and conditioner contain no added fragrances. But our shampoo and conditioner smell wonderful! A unique sophisticated combination of essential oils results in the heavenly scent of the lotus flower. This flower is a symbol of purity, tranquility and beauty in Asian cultures.
I wanted to know everything about the hair care products I was using. You're entitled to the same standard. Click here to read about all of the ingredients of the Beautiful on Raw Volumizing Shampoo and Revitalizing Conditioner.
NOW AVAILABLE! You may purchase the Shampoo and Conditioner by clicking here.