ADVANCED Age-Defying Serum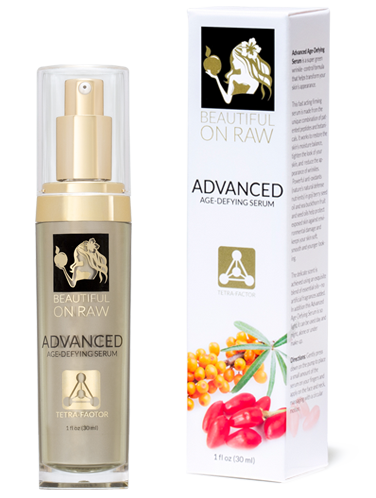 Beautiful on Raw's Advanced Age-Defying Serum is a super green wrinkle-control formula that helps transform your skin's appearance. This fast-acting firming serum is made from a unique combination of patented peptides and botanicals. It works to stimulate the production of collagen, restore skin's moisture balance, smooth facial skin and ward off wrinkles.
Powerful antioxidants in goji berry seed oil and sea buckthorn fruit and seed oils help protect exposed skin against environmental damage and keep your face soft, smooth and younger looking.
The delicate scent is achieved by an exquisite blend of essential oils—no artificial fragrances added. In addition, this Advanced Age-Defying Serum is so light, it can be used day and night, alone or under make-up.
The Serum Works in 4 ways to Give You Rejuvenated and Radiant Skin:

Protects
Goji berry seed oil, sea buckthorn fruit and seed oil contain powerful antioxidants that provide essential protection from environmental damage.

Repairs
Apple stem cell extract, derived from the rare Uttwiler Swiss apple variety, is a revolutionary active ingredient with demonstrated anti aging effects.

Resurfaces
Pro-Coll-One+®, a breakthrough wrinkle care ingredient, naturally derived from hydrolyzed soya, helps boost collagen synthesis, smooth out the skin's micro-features and reduce crow's feet.

Hydrates
AQUAXYL™, derived from natural sugars, helps the skin's hydration, improving water reserves and limiting water loss by realigning cutaneous water flow to better moisturize and strengthen the skin.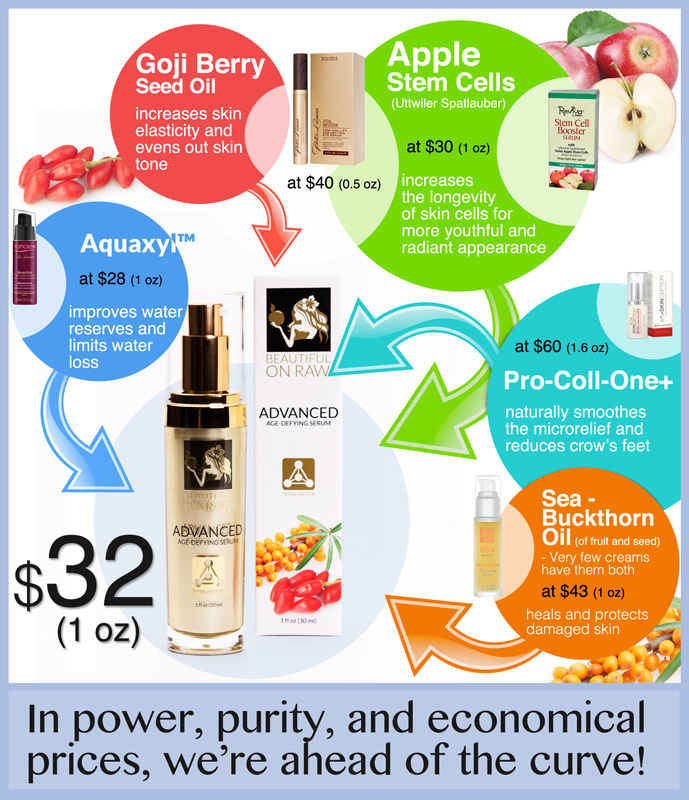 What's the Difference between the "Glow" Facial Cream and this new Serum?
There are actually several differences that matter in your beauty regimen…
First, as the very name "serum" implies, our Age-Defying Serum is more potent, so you can use it more sparingly. But you can get lavish with our "Glow" Facial Cream—especially after dry-brushing or before your Strigil-scraping.
Second, the Age-Defying Serum is a must for the over-forty crowd, thanks to its specially fashioned Pro-Coll-One+®, a breakthrough wrinkle care ingredient.
Your best bet…alternate the two products—cream one day, serum the next. I like to use the Nourishing Night Cream every night, but I alternate between the cream and serum, from morning to morning.
If you don't use a night cream at all, then use the "Glow" Facial Cream in the morning and the Serum at night.
Key Ingredients: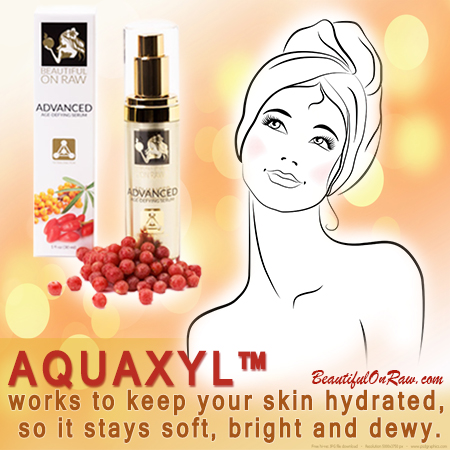 AQUAXYL™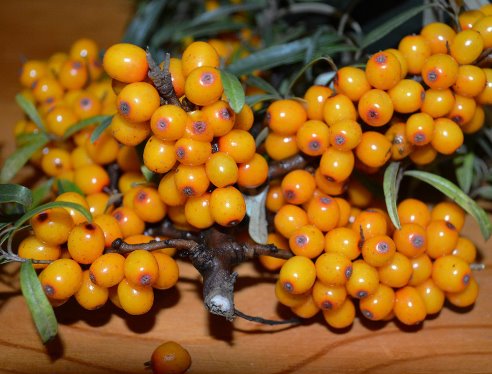 Sea Buckthorn Oil
•    Revitalizes with vitamins A, B1, B2, B6, C, E and essential fatty acids.
•    Preserves youthful skin texture.
•    Eliminates small wrinkles and restores elasticity and tone of aging skin.
•    Nourishes dry skin.
•    Promotes healing of wounds, burns, acne, dermatitis and eczema.
•    Treats sun radiation damage and reduces the appearance of freckles and age spots.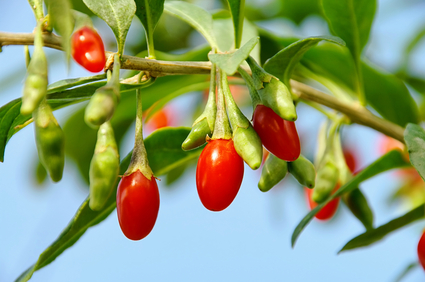 Goji Berry Oil Skin Protection
    Contains all essential amino acids which help fill fine lines and even out skin tone.
    Good source of 11 trace minerals which help fight off effects of free radicals.
    Increases skin hydration and protects skin elasticity.
    Protects the skin from sun damage and helps maintain a healthy glow.
    Helps remove milia seeds (unsightly white bumps that may appear around the eyes).
    Possesses anti-inflammatory properties and stimulates blood circulation.
    Helps heal skin rashes and control psoriasis.
Organic Aloe Barbadensis (vera) Leaf Juice
Aloe vera has long been used in herbal medicine for treatment of wounds and various skin issues. It's included in our serum because it is an effective moisturizer for oily skin as well as an anti-irritant. It reduces chafing and keeps the skin moist to help avoid flakiness in harsh and dry weather.
Shea Butter
Extracted from the nut of the African shea tree (vitellaria paradoxa), contains essential vitamins helping skin look and feel smoother, softer, healthier, and more elastic, as well as reducing blemishes and wrinkles.
Vegetable Glycerin
Glycerin is a food-grade sugar alcohol derived from vegetable oil. Vegetable glycerin helps cleanse and moisturize skin, offering softening and lubricating properties. It serves as a humectant, skin protectant and viscosity-decreasing agent in our cream. Glycerin does all this by helping maintain the water balance in the skin's intercellular matrix.
Organic Chamomile Flower Extract
Matricaria recutita flower extract, derived from the German chamomile flower (the same one popularly used in herbal teas) has been used for centuries to cleanse wounds, soothe inflammation and prevent infection. It is excellent for sensitive and allergy-prone skin, thanks to the anti-inflammatory and antiseptic properties of its soothing azulene compounds.
Organic Tea Tree Leaf Extract
Camellia sinensis leaf extract is derived from the same plant used to produce Chinese tea (not to be confused with the Australian 'tea tree'). This extract possesses strong antioxidant, antibacterial and anti-inflammatory properties, helps repair damaged cells, improving skin tone and texture.
Organic Olive Leaf Extract
Olive leaf extract improves circulation of blood, which keeps the organs healthy, eliminate toxin accumulations, and thereby keep the skin glowing and healthy. The flavonoids and oleanolic acid present in olive leaf stimulate the components of the connective tissue and regularize it - thereby boosting the health of the skin.
Rose-Scented Geranium Oil
Used back to the times of the Egyptians for beautiful, radiant skin, Rose-scented geranium oil helps to balance the secretion of sebum and clears sluggish and oily skin. This oil has a great balancing effect and this extends to the skin - where it helps to create balance between oily and dry skin, keeping the skin supple and clearing congested skin. Known for its astringent and anti-bacterial benefits, when applied in skin care geranium helps heal and clear acne and overly oily skin while still promoting new skin cells for normal and dry skin.
Full List of Ingredients:
Aqua, aloe barbadensis (vera) leaf juice*, cetearyl olivate*, sorbitan olivate*, coco-caprylate*, xylitylglocoside and xylitol*, glycerin (vegetable)**, tapioca starch***, butyrospermum parkii (shea butter)***, cetyl alcohol**, hippophae rhamnoides (sea buckthorn) seed oil***, hippophae rhamnoides (sea buckthorn) fruit oil, lycium barbarum (goji berry) seed oil***, hydrolyzed soy peptides***, malus domestica fruit (apple stem) cell culture extract, sodium hyaluronate**, matricaria recutita (chamomile) flower extract*, camellia sinensis (green tea) leaf extract*, olea europaea (olive) leaf extract*, pelargonium graveolens (rose-scented geranium) oil***, benzyl alcohol*, benzoic acid*, sorbic acid*.
* = certified organic by Ecocert or NPA (Natural Product Association)
** = Very safe ingredient according to Environmental Working Group cosmetics database
*** = 100% naturally-derived