Quantum Eating-Review in Get Fresh! Magazine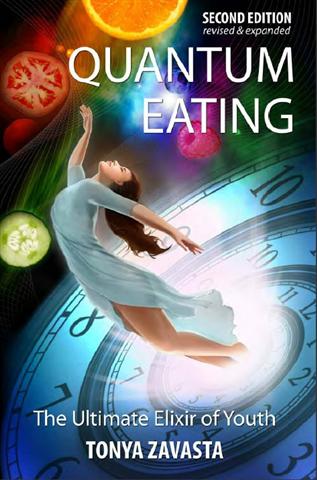 The Ultimate Elixir of Youth! (*Now in its 2nd edition!)
Here's a review from Sarah Best, editor of Get Fresh! magazine … the world's leading raw foods periodical—a must-have resource for anyone interested in the raw lifestyle. You'll find the review in the Summer 2007 issue, excerpted here by permission. Don't forget to visit the Get Fresh! website …
As the title suggests, this book marries quantum physics and nutrition. The aim? It's the culmination of the author's quest to discover the ultimate anti-aging diet. Tonya Zavasta is best known for promotion the beautifying benefits of the all-raw diet, and what makes her regime unique is the suggested prolong of our natural night-time fasting period by gradually phasing out dinner. Zavasta eats her last meal at 2 pm and goes for 16-18 hours a day without food-and here's the thing-or water.
Zavasta provides compelling evidence that this complete digestive system rest, dubbed 'dry fasting' by other health pioneers who have similarly extolled its benefits, has detoxification, longevity and rejuvenative benefits. The regime also provides 'calorie-restricted optimum nutrition'—the book draws on the body of research that suggests that if we can meet all our nutrient needs on a low-calorie diet, we're likely to live longer, healthier lives.
Zavasta emphasizes that the plan she recommends is only to be considered by those who have a few years on a pure raw diet under their belts and are ready to go to the next level. She is also explicit that she is recommending dry fasts that last hours, not days.
At over 400 pages the book is a comprehensive and engagingly written guide to staying young gracefully and ends with a selection of recipes and a rundown of the gadgets Zavasta has discovered to help keep skin looking fresh and glowing.
Learn more about Quantum Eating here ...