Get Fresh Summer 2011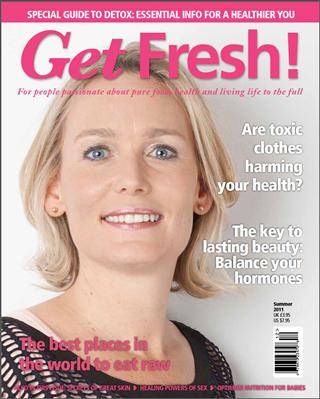 You will meet this month's cover girl, Nikki Gratrix and be intrigued by her brilliant writings on something called 'subpersonality disorders'. If you've never heard of it, this is the article to introduce you to her methods for obtaining health and happiness beyond raw food.

For those with an interest in detox, there are articles on juicing and juice fasting by Karen Knowler, Max Tuck, and Aussie Casey Lorraine Thomas which outline an easy and effective detox plan that will help you get on track and stay there any time of the year. The article on colon cleansing by Frank Arrigazzi will really get you going in more ways than one.
Since health and beauty are my topics of choice, I am delighted to have had the opportunity to offer my knowledge and experience regarding hormonal balance and healthy menopause: Balancing Your Hormones: the Key to Beauty at 50, 60 and Beyond. I believe it is a must read for every woman, and some will find it a perfect segue to the article on the healing power of sexual energy, expertly discussed by Carol Shola Arewa. And if you thought healthy glowing skin was all about what you put on it, Sarah Best teaches several other effective and foolproof ways to obtain a radiant complexion.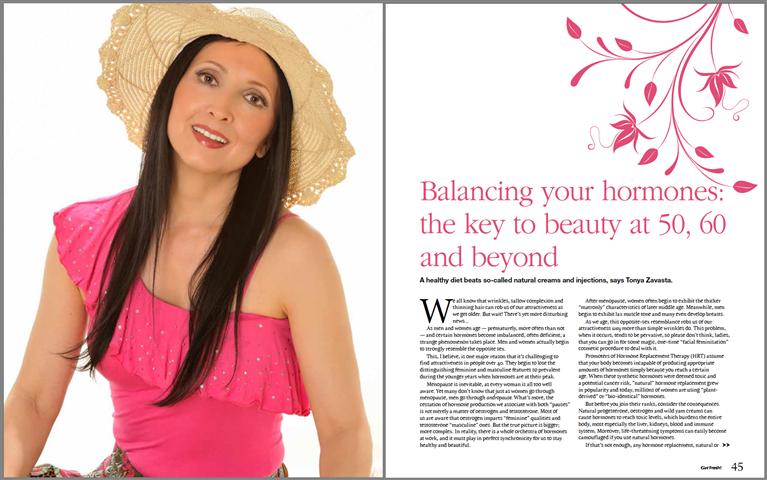 If lifestyle issues are more your cup of tea, Dr. Doug Graham discusses growing your own with allotment gardening. Jason Vale brings some insightful comments regarding the pharmaceutical industry's tendency to promote pills over personal responsibility when it comes to obesity, and parents of young children will appreciate Karen Ranzi's very helpful article on the ins and outs of when and how to feed youngsters a healthy diet. Janey Lee Grace will even help you discover healthy eco-laundry alternatives for washing your clothes.

Speaking of clothes, you won't want to miss the eye opening article by Drs. Brian and Anne Marie Clement regarding toxicity that actually comes from our clothing, reminding us that it's not only what you eat that matters, sometimes it's also what you wear.

For travel buffs, Frederic Patenaude shares his experience regarding the 10 top hot spots for living the raw food lifestyle and Anna Rodgers gives a glimpse at a raw food resort in Costa Rica. 
If fabulous raw recipes are beckoning you to the kitchen, you will delight in this edition's superb offerings of Brendan Brazier and chef Russell James. If you thought raw food was all about enzymes, then Dr. Thomas Billings has a thought provoking article that will likely get you rethinking what you thought you knew about this fascinating subject.

No matter what area of the raw food lifestyle interests you the most, no one will want to miss the interview with Dr. Thomas Lodi, who generously shares his expertise in the area of medical diagnoses for cancer, the dangers, the downsides and the alternatives. You can even obtain a little 'health insurance' from your kitchen with Elaine Bruce.