Vita-Mix Turbo Blend 4500
New and Improved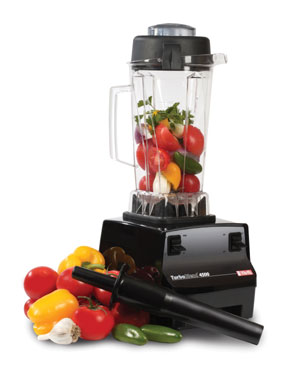 Nick and I have been using our Vita-Mix blender for ten years. No, I don't mean we've had a string of them.  I mean we've been using the same one, the first one we bought, the same Vita-Mix 4500 Turbo-Blend model, for ten years. Every single day. Now that's value for money!
What's so special about the Vita-Mix?
Power, for one thing. The Vita-Mix features a 2-hp peak motor. TWO horsepower! What's more, the Vita-Mix's top-quality blades turn at a remarkable 37,000 peak RPM. You read that right: 37 thousand RPM. Bottom line: There's nothing your Vita-Mix can't handle.
We no longer sell the Vita-Mix; however I do still believe it's the best blender for smoothies. There are many online merchants stocking this blender. Just do a Google search.
The Vita-Mix vessel is perfectly designed. 64-ounce capacity - a good size. Made of see-through non-BPA Tritan Copolyester, it's virtually unbreakable, chemical-resistant, and 100% safe for all foods and food combinations. You'll find convenience also in the no-drip spout and raised calibrations for US and metric measurements.
Hardened steel blades get the job done. The hammer mill and slicing surfaces break down food and ice evenly for smooth results - and great smoothies!
You need two speeds in a blender, and the Vita-Mix Turbo-Blend gives you a high and a low, as well as a tamper that lets you blend thick, dense ingredients that bring other blenders to a standstill. That tamper itself is amazing-s smart design combination including a special collar that prevents your tamper from striking the blender's blades.
Vita-Mix designers and engineers have crafted a container made for efficiency - not just looks. The shape of their exclusive 64oz carafe creates a powerful vortex forcing ingredients up from the blade then back down the center, ensuring you even, consistent processing, and a truly smooth result.
Reluctant dishwashers rejoice! - The Turbo-Blend's one-piece blade design means no little crevices that can conceal decaying food particles... no disassembly required to clean! Just a few drops of liquid dish soap... five cups of warm water... run on high for 30 to 60 seconds... and you're done! - a completely clean blender, and little effort from you.
The Vita-Mix people care about your safety as well. The Vita-Mix Turbo-Blend's heavy duty base is made from fire retardant ABS plastic and thermoset polyester. Despite its power, the motor is cool-running, and an automatic shut off provides thermal motor protection.
The whole design of the Vita-Mix Turbo-Blend is truly commercial quality. Just one mark of that quality... no cheap bushings, here - machined precision ball bearings let the blade shaft run silky smooth, to last for years and years of service. That's why you'll find a five-year warranty included with your Vita-Mix 4500. But don't think of this as a "smoothie machine." The Vita-Mix Turbo-Blend can handle whatever you throw at it. This remarkable machine's power and precise cutting capacity helps you dig deep into the cellular structure of plant foods, creating an explosion of fruit and vegetable flavor.
Your Vita-Mix Turbo-Blend will help you mine all your favorite fruits and vegetables for all the health-giving nutritional value they offer. But use it, as well, to chop ice... chop, grind, puree, even liquefy any food you like. Great for green smoothies! Whether you're making simple sauces and marinades, or processing the toughest plant fibers, you'll find the Vita-Mix 4500 Turbo-Blend the best blender you've ever had.
We no longer sell the Vita-Mix; however I do still believe it's the best blender for smoothies. There are many online merchants stocking this blender. Just do a Google search.