Eating Raw Away From Home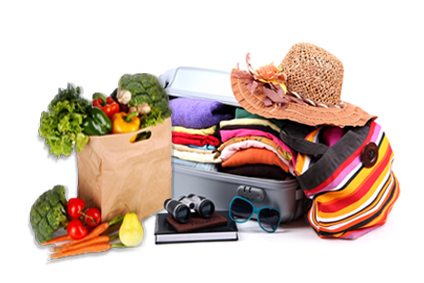 The time for travel is just around the corner, but maintaining a healthy diet while traveling is always a challenge. The good news is that with some prior planning and research, it becomes much easier; and the more you travel, the easier it'll be to maintain your raw food diet.
If traveling by air:
Regardless of your dietary needs — be it gluten-free, kosher, vegetarian/vegan, raw, or even fruitarian — these days most airlines can cater to your needs. The trick is to order your meals well in advance, otherwise you may have to rely on the standard fare offered by the airline. Reserve that special meal when purchasing your airline tickets - there is no extra cost!
While at the airport, I suggest you walk around the terminal and get some exercise before the flight, as you're going to be sitting in a cramped seat for a number of hours. You should also check to see if there is a fresh juice bar nearby; this is something you can check on the airport's website ahead of time. As juicing practices gain more popularity, supply is quickly catching up with demand. Carrot, tomato, citrus juice and juice blends can usually be found at juice bars in many airports, shopping malls and other establishments. Many eateries at the airport will also stock salads, allowing you to eat a light meal before your flight, though don't expect the freshness and selection you may be used to at Whole Foods.
You can bring some raw foods with you on the plane, just make sure to check the latest carry - on guidelines from the Transportation Security Administration (www.tsa.gov) in advance. Seaweed is great, as are apples, nuts, seeds, homemade trail mixes, and raw bars, such as the Spirulina Dream Bar by Raw Revolution. Just bear in mind that you can't bring fresh food with you to the US if you're flying in from another country, so make sure you finish your unpackaged snacks before you land. On his last trip from China, my son, who had forgotten he still had an apple in his carry-on when going through LAX, was pounced on by a canine customs officer and had it confiscated.
Unless you are following the waterful raw food diet, you should also make sure to fill a water bottle after you go through the security screening, as the liquid rule doesn't apply once you've been through security.
I would also recommend bringing a little salt with you, that way you can dilute it in water and rinse your mouth out after eating, helping to wash away food acids. This is essential if you have been eating lots of fruits or dehydrated sweet treats. Just make sure you leave the salt in a small container (preferably the one it came in) as you don't want to be explaining why you're carrying a lot of white powder through airport security!
Traveling can be very stressful, especially when it comes to flying, so to prevent this Dr. Gabriel Cousens offers the following advice in his book, "Rainbow Green Life-Food Cuisine":
Drink only fresh water or eat lightly during the flight; this helps to avoid digestive upsets (caused by the body adjusting to a new time zone) and helps the body to repair itself from the shock of flying.
Bring blue-green algae along to mix in with the water, which minimizes brain, body and adrenal stress.
The ideal way to travel is to fast through the whole flight. Fasting, or eating less than you usually do, can push your body into a cleansing mode, so choose it only if you had a lot of experience with fasting prior to your flight. You do not want to deal with cleansing reactions while you're on your vacation.
If traveling by car:
If traveling by car then it's of course a lot easier to continue your raw food diet and effectively plan your meals, as you are not restricted by space or security regulations. You can prepare your raw meals and snacks at home and then take them with you. If you'll be staying in hotels on the way to your destination, make sure your room comes with a small refrigerator, so that you can keep your raw supplies fresh overnight. The complimentary breakfast at the hotel will more than likely have an assortment of fresh fruit available as well.
Make sure you pack a knife, small cutting board, cups, plates and cutlery. You should also pack some napkins, home-made seasoning mix and/or salad dressing, lemons and avocados, then you can have a picnic or two en route, or a decent meal at any restaurant you pass. You can research restaurants, produce markets and health food stores along your route and at your destination. This way you can ensure that you won't be panicking at the last moment as you search for raw food. These days even regular grocery stores carry an array of organic produce, catering for the rapidly expanding raw food diet.
During extended stay:
Reserve somewhere that has a kitchen and there's a good chance it'll have a blender. If not, there are convenient travel-size blenders that are easy to carry, such as Nutri-Bullet or Magic Bullet. They will ensure you can make your green smoothies and salad dressings while away from home.
Take a few hard-to-find raw food items with you for quick raw meals, such as raw nut butter, raw tahini, and raw nori sheets. You may consider also taking seeds and a mesh sprout bag or a jar with you, so you can have fresh and affordable greens on hand. They make a great addition to salads.
Make sure you have access to good quality water. You can also take a portable water filtration device with you, or acquire quality bottled water locally. Ask the local residents for recommendations of farmer's markets and raw-friendly restaurants. Online forums can also be a good way to search for these things.
Conclusion
You are always likely to run into some problems maintaining your raw food lifestyle when you travel, but if you stay committed to the diet and plan everything in advance, then these are easily overcome. If you have been eating raw foods for a while, you know from experience that raw foodists don't become ravenously hungry easily, and can go on for quite a long time between meals. It takes a lot to break us.