GENTLE Facial Cleanser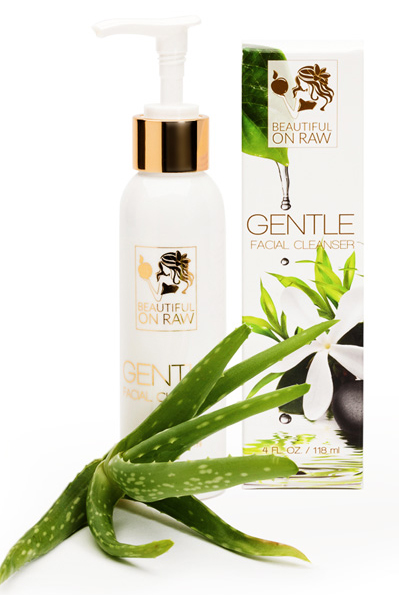 Our Facial Cleanser is sulfate-free! No ethylene oxide, no amides, and it's readily biodegradable. All our components are derived from natural, readily renewable plant sources. Contains no harsh detergents that can strip, dehydrate or irritate. Instead, our cleanser contains hydrating herbal extracts such as chamomile flower extract, green tea leaf extract, olive leaf extract and aloe vera leaf juice to make it appropriate even for the most sensitive skin—gentle enough for babies!
Along with the most beneficial oils, such as shea butter, sweet almond oil, jojoba seed oil, sunflower seed oil, sesame seed oil, argan nut oil, to make sure it moisturizes as well as cleanses your skin.
Hyaluronic Acid
Our Facial cleanser contains Hyaluronic acid (HA) as an active ingredient. HA  is a complex carbohydrate produced naturally by our fibroblast skin cells—more so in our younger years. It is vital to health, distributing nutrients to cells that don't possess a blood supply, such as cartilage. HA also helps maintain structural collagen and elastin. It does this by rehydrating the skin, helping retain water in connective tissues, increasing the skin's viscosity and elasticity, bringing back that youthful, glowing appearance.
Coenzyme Q10
Another key ingredient…Coenzyme Q10 (CoQ10). Found naturally in the body, CoQ10 is a vital antioxidant, necessary for cell protection and repair, for it combats damage from free radicals. CoQ10 also boosts energy production. Like HA, CoQ10 levels decline with age and our cells no longer withstand stress and regenerate as effectively. Studies indicate a topical application of CoQ10 can help replenish levels and guard against several kinds of skin damage.
All-In-One Skin Cleansers?
Cleaning your fresh, bare facial skin is one thing. Cleaning off mascara is another. Ironically, all-in-one skin cleansers only get half the job done. Here's why…Cleaning skin is all about removing oil, as well as the dirt and other matter which your skin oil attracts. Cleaning off mascara and other makeup is about adding oil, because most makeup is oil-soluble. You can't have it both ways in one product—not if you want truly clean, fresh, healthy skin.
So do you need two cleansers? One to remove mascara, one to clean your skin afterwards? Not at all! I offer you one of the two cleansers you need…you already have the other! We don't manufacture a mascara-remover. Why not? Because you already have the very best kind, right in your own home.
You Already Have the Oil-Based Cleanser!
Here's what I do…I dip a piece of cotton in pure almond oil or coconut oil and remove my mascara first. All the makeup comes off because it's oil-soluble. Then I use our gentle facial skin cleanser.
Coconut or almond oil is the perfect cleanser for removing mascara. It's 100% oil, and there's no purer cleanser for the purpose—no impurities, no "extra" ingredients. A natural effect is that you'll leave a little extra oil around the eyes, where your skin needs it.
You need, first, a hard-working oil-based cleanser to remove mascara. Then you need a gentle cleanser for healthy, clear skin—that's where we come in. 
Simple oil from your kitchen or bathroom shelf…plus our simple, pure Facial Cleanser…your one-two punch for truly healthy, truly clean skin. So you can put forward your best face towards the world!
Preservative: We are using an ecocert organically-certified preservative called Geogard Utra. It is classified as GRAS (Generally Recognized As Safe) as a food additive by the FDA and is composed of gluconolactone and sodium benzoate. Both these ingredients are well known in the food and cosmetics industry with sodium benzoate being commonly used for preserving tofu, fruit jellies and concentrated orange juice as well as beauty products.
Full Ingredients List: Aqua, sodium cocoyl isethionate, sodium methyl oleayl taurate, lauryl betaine, guar hydroxypropyltrimonium chloride, butyrospermum parkii (shea butter), aloe barbadensis (vera) leaf juice*, sodium hyaluronate (hyaluronic acid), ubiquinone (CoQ10), matricaria recutita (chamomile) flower extract*, camellia sinensis (green tea) leaf extract*, olea europaea (olive) leaf extract*, prunus amygdalus dulcis (sweet almond) oil*, simmondsia chinensis (jojoba) seed oil*, helianthus annuus (sunflower) seed oil*, sesamum indicum (sesame) seed oil, argania spinosa (argan) nut oil, lavandula officinalis (lavender) essential oil, citrus limonum (lemon) essential oil, gluconolactone, sodium benzoate.
Directions for Use:
If needed, remove any mascara with a pure oil product (e.g., olive oil, apricot oil, almond oil, baby oil) using a cotton swab.
Wipe your face clean.
Shake the bottle* of the Gentle Facial Cleanser for a few seconds and then apply a small amount all over your face.
Rinse with warm water. (Try using our NEW PetalPads to get even better results from the Gentle Facial Cleanser)
Follow up with a nourishing facial cream.
*As with all our products, we do our best to make our Facial Cleanser as natural as possible. Thus we've chosen not to use a dispersing agent—that is to say we've avoided chemicals that contain surfactants and solvents used to break oils into small droplets. That's why we ask you to shake our cleanser before use.