Raw Foods as a Lifestyle: It Ain't Just Eatin'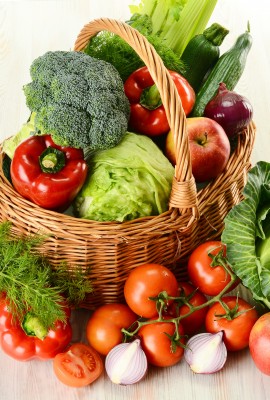 It's been many years since I took the first few tentative steps on my raw food journey. Since then, I've experienced one exciting transformation after another, both physically and mentally. My health, looks and state of mind have continuously improved over the years. Just when I thought things couldn't possibly get better, they did! I firmly believe this is because I took special care early on to transition slowly to raw foods, and to incorporate all of the lifestyle practices so essential for creating genuine, lasting health.
Food is Just the Beginning
Our western culture is all about diets, all about pills—things you consume. The truth: Food is only the beginning! I get many emails from people confused and disillusioned because they've been eating raw foods exclusively for a time but still feel constipated, still have skin issues, haven't lost enough weight—the list goes on. A common thread runs through many of their pleas. It's simple: The "food thing" is all they're doing! I can't figure out what's wrong…I haven't experienced the 'butterfly-cocoon effect' like you…and I've been raw for months! Sometimes, the trouble might be medical. And I do not, cannot give any medical advice. I can, however, offer some common sense from one who has walked the path for many years.
From Diet to Lifestyle
A sound raw food diet is the foundation you begin with. From there you must build up it to a true lifestyle, not just a diet. Our bodies are designed to cleanse, repair and heal from the inside out. But it takes more than just good food to do this. Several factors need to work in harmony to create lasting health. We cannot break natural laws and expect to get away with it for very long. We need sleep, sunlight, exercise, adequate elimination and occasional abstinence from food, to name just a few basic bodily requirements for optimal health. Take full responsibility. We can't just eat raw, throw up our hands and say, "Okay, that's it—I should be a walking picture of health!"
When you follow all the natural laws of body function, everything works together. Half measures get you well less than half way. This means: lifestyle, not diet. You're not looking to lose five pounds for your high school reunion. You are seeking true transformation from the inside out. You'll notice over time that even your mind will transform, and you will actually begin to think differently. Once you stop polluting your body with dead and processed foods, you'll need to begin undoing years of toxic buildup while simultaneously preventing its recurrence by incorporating appropriate lifestyle practices. You will find all of these lifestyle practices in the 100 Days to 100% Raw program, available in ebook format, and you can also learn more about them in the following related links.
Colon cleansing
If for years you have been eating a Standard American Diet, you undoubtedly have much impacted debris in your colon that will need to be removed intelligently so you can fully enjoy the benefits of the clean, raw foods you are introducing to your body. If you experience bloating, constipation or skin issues, you might want to consider a series of colonics, performed by a licensed colon hydrotherapist, to clear the way for success with your raw food diet. If the cleansing juices and foods you are beginning to eat hit the old, toxic debris lodged within, it can create a traffic jam in your intestines—uncomfortable and health-impeding.
Skin brushing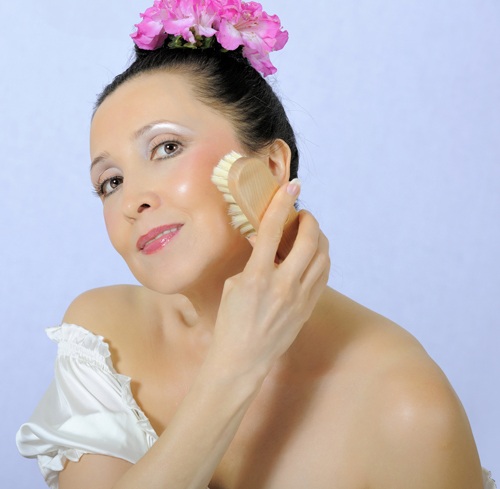 One of the simplest, most effective things you can do daily is to dry-brush both body and face. It's a practice I swear by! You will use one brush for your face, a different one for the rest of the skin on your body. Dry-brushing is a wonderful way to help exfoliate your skin, helping your body to release some of its toxic load, improve circulation and polish your skin to a rosy glow. I even give free facial brushes with qualifying orders of my facial cream.
Exercise
We said "lifestyle"—remember? Deal with it: Daily exercise is no longer an option. When I discovered Bikram yoga I found the results nothing short of life-changing when combined with the raw food diet. I had to write a book, and now you can read it: Raw Food and Hot Yoga.
As women get older, it becomes important to incorporate some form of weight-bearing exercise to help keep bones strong and prevent osteoporosis.
Sunlight
Lots of us outright fear the sun. Lack of reliable information and improper diet have made people scared to death of getting out in the sun for fear of skin cancer. But research reveals that the sun does not cause skin cancer per se, although overexposure and damaging reactions with a toxic bloodstream can cause unsightly damage. Adequate sunlight is indispensable if you really want to experience vibrant health inside and out. And we need the sun for the production of Vitamin D. Aim for about 30 minutes' exposure a day, and avoid going out when the sun is at its peak in the summer. Wear hats and light, gauze clothing for protection when you are out. Be sure to read the chapter entitled "Sunning and Mooning" in my book  Quantum Eating .
Sleep
While many raw food aficionados (me included) rave about having abundant energy and requiring very little sleep, don't strive to emulate this all at once! The best hours of sleep are those before midnight. As Ben Franklin admonished us, "Early to bed and early to rise." Sleeping in a dark room helps your body produce the hormone melatonin, which not only serves as a cancer preventative, but helps us keep our youthful looks. I am always in bed by ten. I'll admit it: I need my beauty sleep.
Work your way up to Quantum Eating
Raw in quality, low in quantity. That's my motto for the very best in health-promoting and age-defying dietary practices. Once you're well established on the raw food diet, you'll be more in tune with your body and will learn to tweak your dietary practices through the months and years. You'll find that you do not need nearly as much food to stay healthy or satisfied as you used to, because your body is cleaner, far more efficient. You must gradually decrease the amounts of food that you are eating. The best, first way: Stop eating late at night. Everyone can benefit from not eating at night. But those over the age of 40 will reap even more rewards from gradually eliminating the evening meal altogether. For lots more details, see my book Quantum Eating.
As you can see, our bodies are magnificent, complex designs, utilizing all the elements of nature to create a human being with youth, beauty, stamina and holistic health. Don't cheat yourself by leaving out any of the important parts of the health formula. Begin with the raw food diet as your foundation and build yourself up from there!
While you are at it, do take before and after pictures and send them in, won't you? I'd love to see and celebrate your success!