Berries and Poppy Seed Smoothie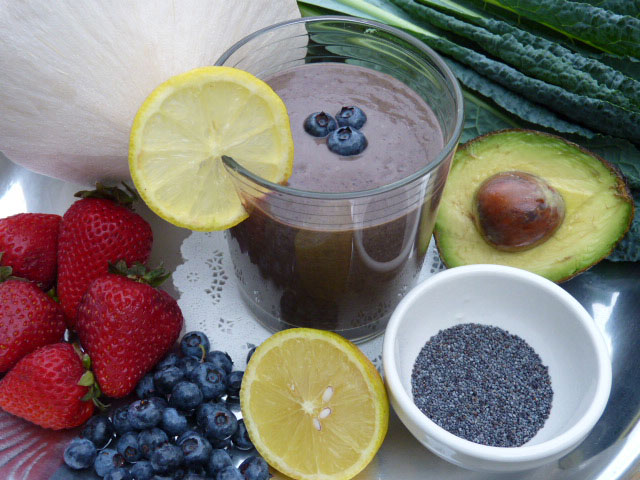 Adding poppy seeds to your smoothie provides additional minerals, fiber and Omega-3s on top of summer berry goodness, the freshness of coconut water, and all the gifts the leafy greens have to offer.
Recipe Author: Beautiful on Raw
Preparation Time: 15
Serves: 2
---
Ingredients:
water from 1 young Thai coconut
1 Tbs. poppy seeds, ground in a coffee grinder
1 Tbs. lemon juice
1 cup Lacinato kale, without stems, roughly chopped, or milder greens like spinach, chard, or lettuce if you are new to green smoothies
1 cup blueberries
1 cup strawberries, with stems
1/2 avocado, peeled and pit removed
Place all the ingredients in a high-speed blender and process until well blended. Decorate with berries or lemon and serve.
Ingredients: avocado, blueberry, coconut, kale, lemon, poppy seed, strawberry