Raw Vegan Holiday Nog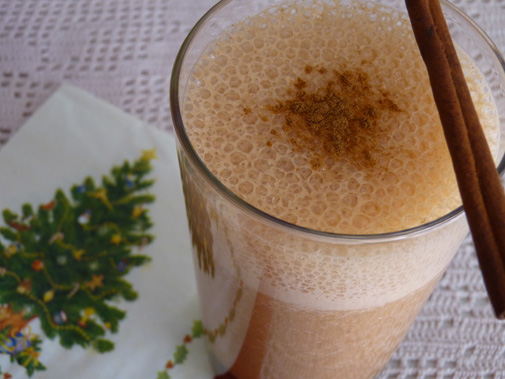 If you have veggie juice and almond milk prepared in advance, it won't take long to prepare this popular drink for the holiday celebration. Surprisingly light, refreshing, and tasting much like the traditional eggnog, this beverage is sure to have your guests asking for a refill.
Recipe Author: Beautiful on Raw
Preparation Time: 15
Serves: 4
---
Ingredients:
1 cup almonds, soaked, rinsed, and drained
2 cups water
1 cup sweet potato and/or carrot juice
5 Medjool dates, pre-soaked and pits removed
1 banana
1 tsp. vanilla extract, or seeds of 1 vanilla bean
½ tsp. ground nutmeg
dash ground cinnamon to garnish
Prepare almond milk by combining almonds and water in a high-speed blender, and blending on high for a minute or so. Strain through a nut milk bag, return milk back to the blender, and reserve the pulp for another recipe. Place all the remaining ingredients except the cinnamon in the blender and blend until completely smooth. Pour into tall glasses, and garnish with a dash of cinnamon. Note: Preparation time is 15 minutes plus soaking time.
Ingredients: almonds, banana, carrot, cinnamon, dates, nutmeg, sweet potato, vanilla