Kale Crunch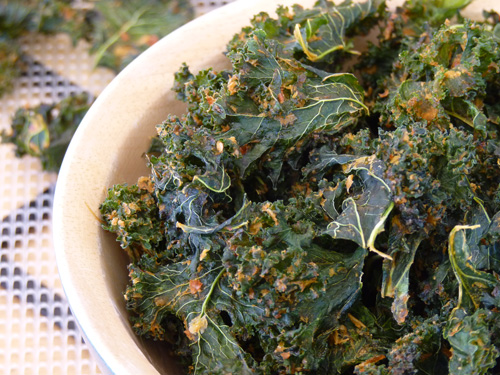 Sometimes crunchy is the texture we crave. Kale crisps fill this need beautifully. Eat without guilt and share with the kids.
Recipe Author: Beautiful on Raw
Preparation Time: 20
Serves: 6
---
Ingredients:
1 ½ bunches of green curly kale
1 small zucchini (about 2 cups chopped)
1 red bell pepper, seeds removed, and chopped
1 stalk celery, chopped
¼ cup pine nuts
1 ½ yellow or red tomato, chopped
3 Tbs. red onion, chopped
1 tsp. ground cumin
juice of 1 lemon
½ - ¾  tsp. Himalayan salt
Prepare kale leaves by washing them and tearing into bite-size pieces. Save the stems for another recipe. Place the rest of the ingredients into a high-speed blender and blend on high until all well-blended. Pour into a big bowl, add the kale leaves and mix and massage with your fingers until the kale is well saturated. Spread the saturated kale pieces onto dehydrator trays covered with Teflon sheets and dehydrate at 105 F for about 12 -15 hours. When the leaves shrink and become crispy to your likeness, they are ready to eat! Note: Preparation time is 20 minutes plus time to dehydrate the kale.
Ingredients: celery, cumin, kale, lemon, pine nuts, red onion, sweet pepper, tomato, zucchini
Recipe Type: Snack