Stuffed Crepes with Cashew Vanilla Cream and Berry Sauce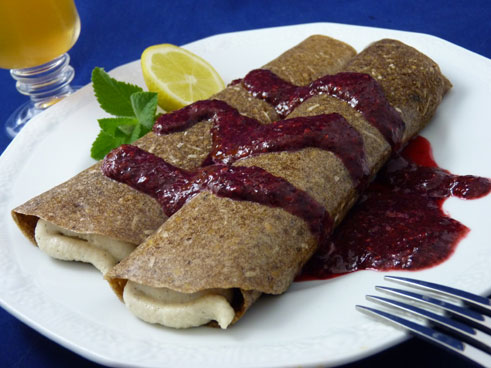 These crepes take some time to prepare but the taste is heavenly!
Recipe Author: Beautiful on Raw
Preparation Time: 40
Serves: 3
---
Ingredients for crepes:
6 bananas, peeled and cut into chunks
1/3 cup dry coconut flakes
1/3 cup golden flax seeds, ground in a coffee grinder
1 tsp. cinnamon
Ingredients for cream:
1 ½ cup cashews, soaked for a few hours, drained and rinsed
¼ cup water
seeds from 1 vanilla bean
1 Tbs. raw unheated honey
pinch of Celtic sea salt
Ingredients for sauce:
2 cups of fresh or frozen berries, such as strawberries, blackberries, blueberries, or raspberries, or a mix, defrosted in advance in the refrigerator, if necessary
2 Tbs. raw honey or other raw sweetener of your choice
For the crepes, place all the ingredients in a food processor and blend well until well mixed.  Using the spatula, spread the mixture onto Teflex-covered dehydrator trays making round crepes, approximately ¼ inch thick and 4 in. in diameter. Dehydrate at 105 degrees for about 15 hours until dry but pliable, flipping the crepes over halfway through onto the dehydrator sheets. Don't overdry: you have to be able to roll them. While crepes are drying, prepare the cream and the sauce and refrigerate both (see below). Once the crepes are ready, roll each one into a tube and place the rolled crepes on a plate lined with wax paper and then stretch plastic wrap over the plate. This should provide the needed pressure to make them stay rolled up. After an hour or so under the plastic wrap the crepes will stay rolled on their own. For the cream, place all the ingredients in a blender and blend until smooth.  Transfer to a bowl, and store covered in the refrigerator. Follow the same directions for the sauce. Once the crepes are ready, place the cream inside each crepe, and drizzle the berry sauce on top. Preparation time is 40 minutes plus soaking and dehydrating time.
Ingredients: banana, blackberry, blueberry, cashew, coconut, flax seeds, raspberry, raw honey, strawberry