Celery Logs with Sunflower Turmeric Pate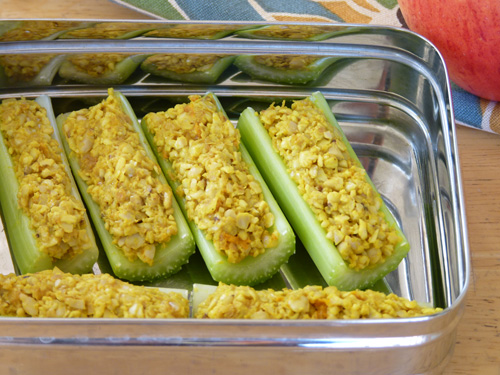 You'll find these celery logs a terrific hors d'oeuvre, whether your guests are "all raw" or not.
Recipe Author: Beautiful on Raw
Preparation Time: 10
Serves: 3
---
Turmeric is a natural, anti-inflammatory spice. It is known to detoxify the liver, promote cancer cell apoptosis, assist in fat metabolism and act as a natural painkiller. Traditionally, it is used in cooked Indian recipes, but it can be used in raw cuisine as well: Think soups, pates, dressings, sauces, or crackers. Oh, yes, I almost forgot: These celery logs also TASTE GREAT! 
Ingredients:
1 cup sunflower seeds, soaked for a few hours, rinsed and drained

½ cup sundried tomatoes, soaked for 30 min

1 garlic clove, finely chopped

½ tsp. ground turmeric

¼ tsp. Celtic sea salt, or to taste

1/3 cup or more of water from soaking the sundried tomatoes

carrots for garnish (optional)

4 to 6 celery sticks
Drain the sundried tomatoes, reserving the water remaining from soaking. Place all the ingredients, except celery and carrots, in a food processor. Blend until you reach the desired consistency, occasionally scraping the sides of the food processor. Add soaking water as necessary. Cut celery sticks into "logs" about 2 inches long, peel off the long fibers, and fill the logs with pate. Serve as is, or garnish with narrow carrot strips, if desired.
Please Note: Preparation time is 10 minutes plus soaking time.
Ingredients: sundried tomato, sunflower seeds, garlic, turmeric, celery, carrot
Recipe Type: Main Course, Snack