Tzatziki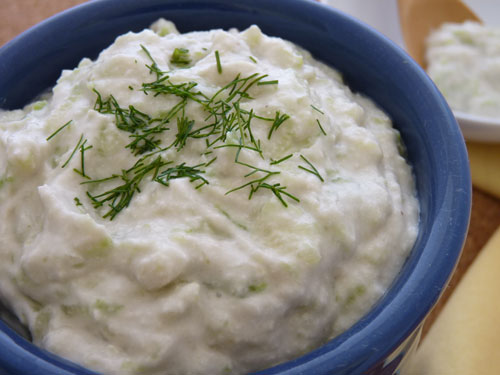 Inspired by my recent travels, the traditional Greek appetizer offered here has been adapted for the raw food diet. It is not only delicious, but versatile as well: eat as a meal, spread on crackers, or use as a veggie dip.
Recipe Author: Beautiful on Raw
Preparation Time: 20
Serves: 3
---
Ingredients:
1 English cucumber or 2 smaller ones, peeled
2 cloves garlic, minced
½ and ¼ tsp. Celtic sea salt
½  tsp. apple cider vinegar and 2 tsp. for yogurt
2 Tbsp. first cold pressed olive oil, optional
1 cup of young coconut "meat"
1 cup sunflower seeds, soaked overnight
2 Tbsp. fresh lemon juice
1/4 cup + 3 Tbsp. coconut water
To prepare the yogurt, put coconut meat, sunflower seeds, lemon juice, 2 tsp. apple cider vinegar and ½ tsp. salt and coconut water in a blender, adding more coconut water if needed to get the blades going, and blend on high until the mixture reaches a yogurt consistency. Transfer to a bowl and set aside. Grate the cucumbers, add ¼ tsp. salt, and squeeze the water out, using a fine mesh strainer or cheesecloth. Place in a bowl, stir in minced garlic, add 1 tsp. apple cider vinegar, olive oil and the yogurt. Mix everything together with a fork, chill if desired and serve.
Ingredients: apple cider vinegar, coconut, cucumber, garlic, lemon, sunflower seeds
Recipe Type: Snack