Nutty Tomato Rosettes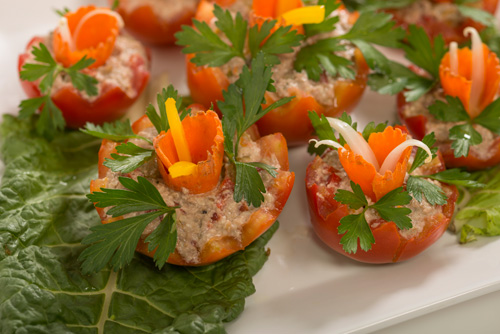 Simple, yet festive enough for potlucks and parties, these rosettes use ingredients available year-round. I hope you have plenty of sun-dried tomatoes lovingly preserved just waiting for this yummy recipe.
Recipe Author: Beautiful on Raw
Preparation Time: 25 minutes, plus soaking and dehydrating time
Serves: 12-16 rosettes
---
Ingredients
1 cup walnuts, soaked for a few hours and dehydrated
2 celery stems, chopped
½ cup dry tomatoes, soaked for 30 minutes and drained
1 cup yellow summer squash, chopped
1-2 tsp. fresh lime juice
½ tsp Celtic sea salt, or to taste
pinch Jalapeno pepper, minced (optional)
6 -8 tomatoes, halved
1 carrot, peeled into wide ribbons with peeler
1/2 yellow bell pepper, sliced into strips
1/4 white onion, sliced into strips
a few sprigs of parsley
Directions
Make nut pate by combining walnuts, celery, dry tomatoes, squash, lime juice, and salt in a food processor, blending till the walnuts are ground and blended with other ingredients. Stir in minced Jalapeno pepper (optional) and set aside. Prepare tomato halves by removing seeds, carving the edges in a zig-zag pattern with the knife if desired. Fill the rosettes with pate. Insert rolled carrot ribbons in the middle of each rosette for pistils, and thin strips of yellow pepper or white onion to represent stamens. Garnish rosettes with parsley leaves and serve.
Ingredients: walnut, celery, tomato, squash, lime, sweet pepper, carrot, yellow bell pepper, onion, parsley