Apple Cream Pie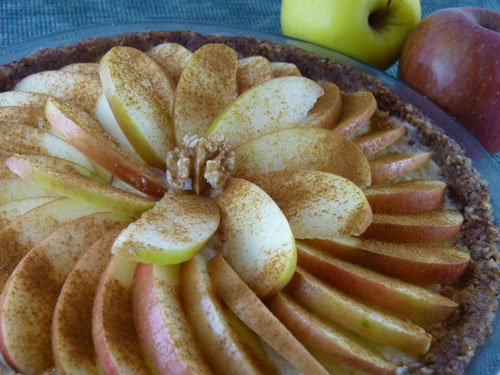 America's favorite pie is climbing up a few notches on the health scale. Sugar-free, gluten-free, soy-free, corn-free, casein-free, and cooking-free! What better way to introduce your family and friends to raw foods?
Recipe Author: Beautiful on Raw
Preparation Time: 30
Serves: 8
---
Crust Ingredients:
1 cup filberts, soaked for 4-5 hours, drained and rinsed
1 cup walnuts, soaked for 4-5 hours, drained and rinsed
1 cup Medjool dates, presoaked and chopped, water reserved
Cream Ingredients:
2 cups cashews, soaked for 2 hours
2 Tbs. raw honey
2 ½ Tbs. fresh lime juice
2/3 cup water from soaked dates
Filling Ingredients:
2-3 sweet apples
lemon juice to keep the apple pieces from oxidizing
cinnamon to sprinkle
Crust: Place filberts and walnuts in a food processor, and grind into crumbs. Add the dates, and grind some more until the mix feel sticky. Spread it evenly with the help of a spoon and fingers over the pie plate and put aside. Cream: Blend all cream ingredients in a powerful blender until the texture resembles cream. Add more water if needed. Fill the pie crust with the cream and spread evenly. Filling:  Cut apples into thin pieces, dip them in lemon or lime juice, and arrange on top of the cream. Sprinkle with cinnamon. Note: Preparation time is 30 minutes plus soaking time.
Ingredients: apple, cashew, cinnamon, dates, filberts, lemon, lime, raw honey, walnut
Recipe Type: Dessert