Power Hemp Fruit Squares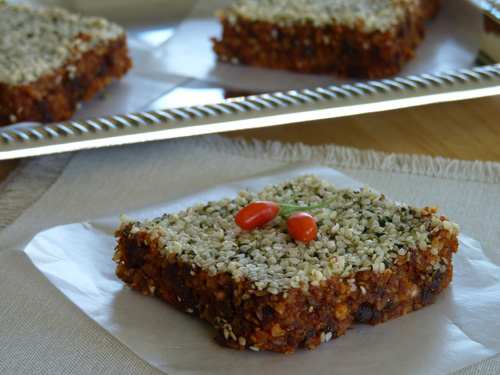 A raw dessert that packs the power of anti-aging Goji berries and nutrient-dense nuts and seeds – for those days when we feel we need something more substantial to ground us.
Recipe Author: Beautiful on Raw
Preparation Time: 15
Serves: 3
---
Ingredients:
¼ cup pumpkin seeds, soaked for a few hours and dehydrated
1 ½ cup almonds, soaked overnight and dehydrated
½ cup dried Goji berries, soaked for a few hours, and the water drained
¾ cup dried apricots, chopped
2 tsp. raw honey
pinch Himalayan salt
¼ cup raw shelled hemp seeds
Place the pumpkin seeds and almonds in a food processor using the "S" blade and blend until reaching a crumbly consistency. Add dried fruits, honey and salt, and continue to pulse and blend until all is well mixed and the mixture starts sticking together. Transfer to a brownie pan and press evenly with the spoon. Pour hemp seeds on top, and press them into the mix. Place in the refrigerator for 1-2 hours, then cut into squares and serve. Note: Preparation time is 15 minutes plus time for soaking, dehydrating and chilling.
Ingredients: almonds, apricot, Goji berry, hemp seeds, pumpkin seeds, raw honey
Recipe Type: Dessert