Arugula Pesto Lasagna with Raw Garlic Confit and Yellow Cherry Tomatoes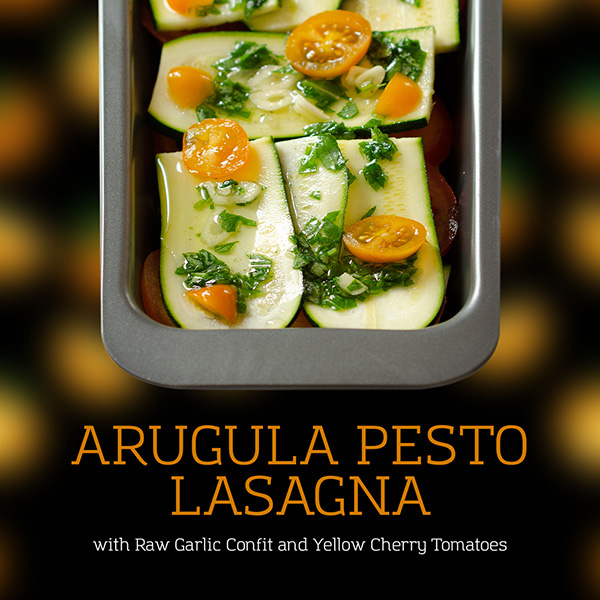 The word confit derives from the French verb confire, which simply means to preserve. Traditionally, confit simply refers to any sort of preserved food, whether it's meat, fruit, or vegetables. Can you do a raw confit? Let us try. You might be surprised.
Recipe Author: Beautiful on Raw
Preparation Time: 30
Serves: 4
---
Ingredients:
2 large zucchinis, sliced
5 garlic cloves, thinly sliced
¾  cup arugula leaves, finely chopped
⅓  cup extra virgin olive oil, cold-extracted
¼ cup yellow cherry tomatoes, chopped
3 tomatoes, sliced
salt, as needed
Pinch of black pepper
Directions:
Prepare the raw garlic confit. In a small bowl, combine garlic, half of the olive oil, some salt, and pepper. Leave garlic inside the oil for at least 30 minutes. In another bowl, combine, arugula, remaining olive oil, salt and pepper. Set aside for 15 minutes.
Assemble the lasagna. You can use a loaf pan or a small casserole dish. Alternate slices of zucchini, garlic confit, yellow cherry tomatoes, and sliced tomatoes. Drizzle all the layers with the pesto. You can use the olive oil from the confit or only the garlic. This oil could be used in other raw dishes as well.
Ingredients: zucchini, tomato, Arugula
Recipe Type: Main Course