Tropical Rolls With Fruit Dip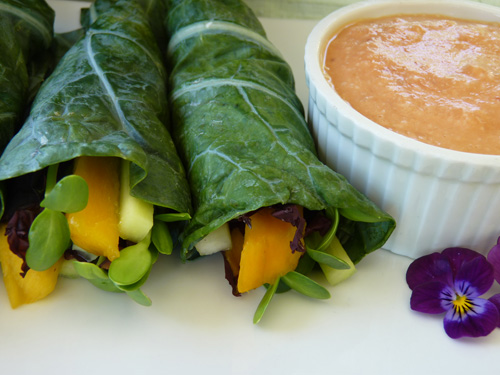 Fruits and greens enjoy each other's company not only in green smoothies, but in rolls and wraps as well. Fresh tropical flavor of fruits in this recipe makes eating greens virtually effortless.
Recipe Author: Beautiful on Raw
Preparation Time: 30
Serves: 4
---
Ingredients:
2-3 collard leaves, thick stems removed
1 mango, peeled, pit removed, and cut into spears
1 cucumber, peeled, seeds removed, and cut into spears
a small bunch of sunflower sprouts or microgreens (or any young greens)
1/8  cup of dulse seaweed
1 cup of fruits such as papaya, strawberries, mangoes, pineapple in any combination, cubed
½ cup coconut meat (from 1 young coconut)
1 tsp. fresh lime juice
Cut big collard leaves into quarters, or halves if they are small. Place mango and cucumber spears, sprouts and dulse on each quarter or half. Roll up into hand rolls. For the dip, combine the cubed fruits, coconut meat and lime juice in a blender or food processor, and blend well together. Serve alongside the rolls.
Ingredients: coconut, collard greens, cucumber, lime, mango, seaweed, sprouts
Recipe Type: Main Course, Salad, Snack