Zucchini Pasta with Pesto Sauce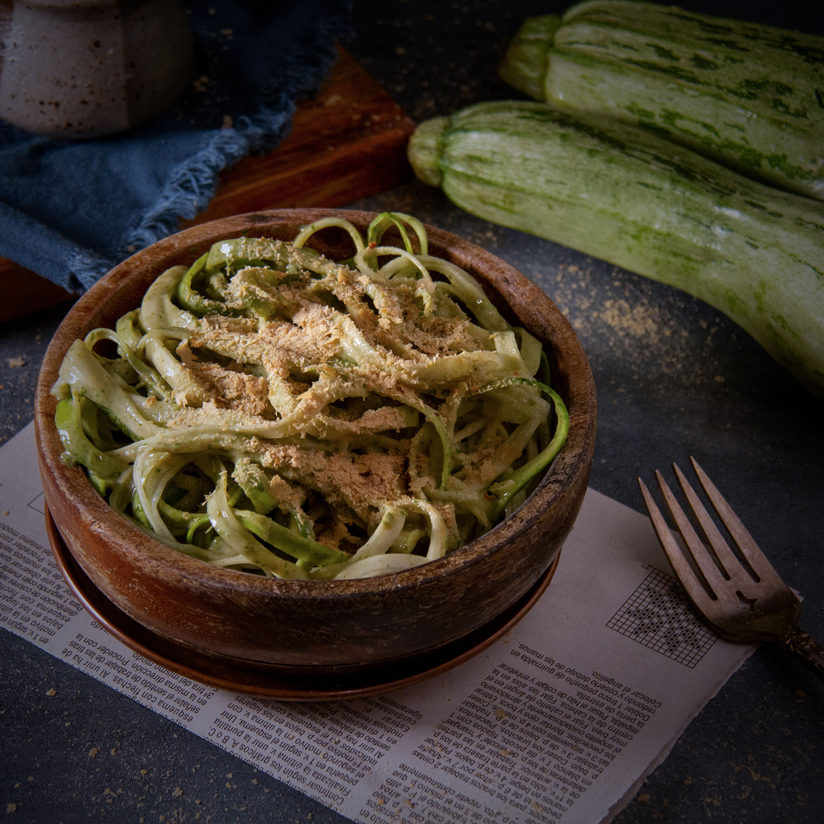 You'll find zucchini pasta an ideal alternative to traditional pasta. It's healthier, lighter, and you can enjoy it raw. Use a spiralizer to make your pasta. You can buy these easily and inexpensively on Amazon, eBay, and similar websites. We'll make a cashew cheese sauce, with nutritional yeast and plenty of basil.
Recipe Author: Beautiful on Raw
Preparation Time: 20 min
Serves: 2
---
Ingredients:
2 medium size zucchinis
1 cup raw cashews 
½ cup of almond milk  
3 tablespoons of nutritional yeast    
½ cup basil leaves
1 clove garlic
2 tablespoons of lemon juice
salt and pepper to taste
Instructions:
Soak cashews overnight in two cups of water. Make zucchini pasta, using the spiralizer. When you have the noodles ready, wrap them in a clean kitchen towel. Squeeze gently to remove excess moisture. Set them on a plate covered with absorbent paper while you prepare the sauce.
To make the sauce, blend the cashews and almond milk in the food processor until smooth. Then add the nutritional yeast, basil, garlic, and lemon juice. Season with salt and pepper. Pour the sauce over the zucchini pasta and serve.
Ingredients: zucchini, cashew, almond milk, basil, garlic
Recipe Type: Main Course