Carrot Salad with Coriander Vinaigrette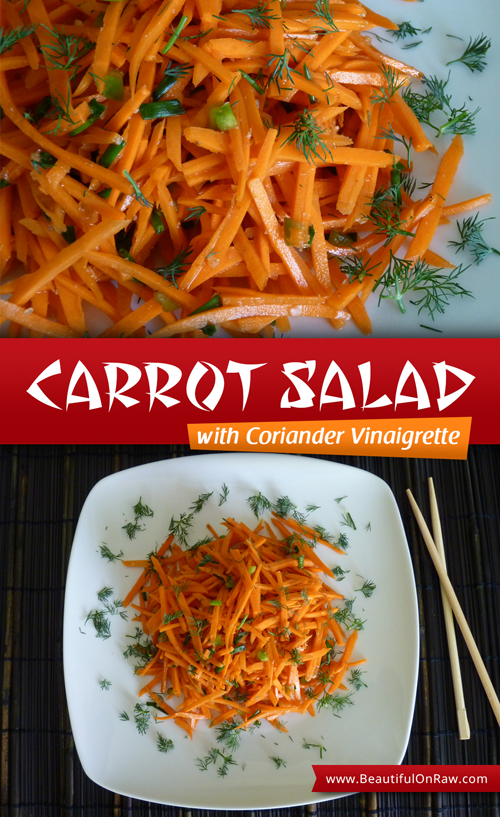 One of the great pleasures of dining raw is sampling the raw recipes of other cultures. Here's a terrific marinated carrot salad—a common enough theme across cultures, but this time with a Korean twist.
Recipe Author: Beautiful on Raw
Preparation Time: 20 min.
Serves: 2-3
---
Ingredients:
2 big carrots, grated with a mandolin slicer
¾ tsp. of Celtic sea salt
1 Tbsp. apple cider vinegar
2 Tbsp. chives, chopped
1 tsp. Jalapeno pepper, finely chopped
1 clove garlic, peeled and minced
1 tsp. ground coriander seeds
1 heaping tsp. raw honey
2 tsp. lemon juice
1-2 Tbsp. of fresh dill, chopped
Place sliced carrots in a bowl, sprinkle with salt, add lemon juice, and gently mix these three ingredients with your hands to cover the carrots. Set them aside to allow the carrots to soften a little. Prepare the dressing by combining vinegar, chives, pepper, garlic, honey and coriander in a small bowl and mix with the whisk. Pour this dressing over the carrots, and mix to cover the carrots well. Garnish with fresh dill. Enjoy the salad right away, or let it sit in the refrigerator for a few hours to allow the flavors to blend.
Ingredients: carrot, sea salt, apple cider vinegar, chives, Jalapeno pepper, garlic, coriander seeds, raw honey, lemon juice, dill
Recipe Type: Salad