Pear Salad with Sweet Chili Lime Sauce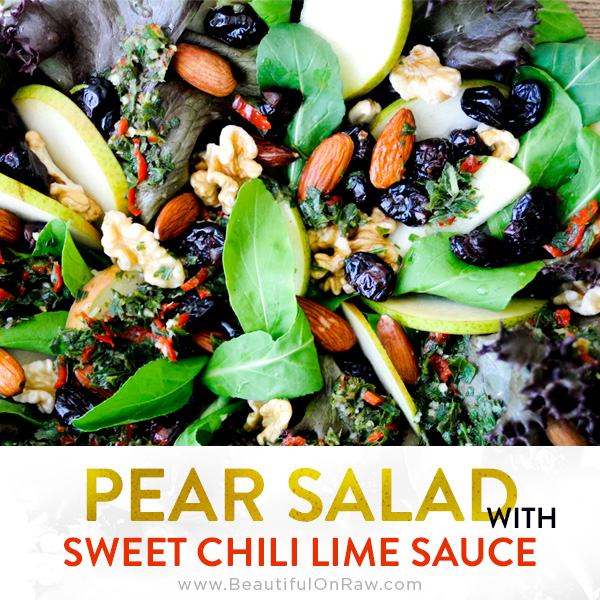 With just the right mix of fruity sweetness, citrus tart, and a touch of peppery heat, this salad's sure to please you in any season of the year.


Recipe Author: Beautiful On Raw
Preparation Time: 10 min
Serves: 2
---
For sauce:
 2 tsp lime zest
ž 2 tsp lime juice
 1 cayenne pepper, seeded and chopped
 2 cloves of garlic
 2 tsp raw honey
 1/3 cup of water
 Salt and black pepper to taste   
For salad:
ž 3 medium pears
 1/2 cup soaked walnuts and almonds
 1/2 cup cranberries
 1 cup arugula
 2 cups leaf lettuce.
Place all sauce ingredients into a food processor, and blend well. Rinse and drain arugula and lettuce, place in a large serving bowl. Cut pears into thin slices and remove the core and any seeds. Add the pear slices, cranberries, and nuts to the bowl with the greens. Toss with sweet chili lime sauce to lightly coat everything in the bowl.
Ingredients: pear, lettuce, cranberry, walnut, Arugula, raw honey
Recipe Type: Salad