Munchable Christmas Tree with Basil Avocado Dip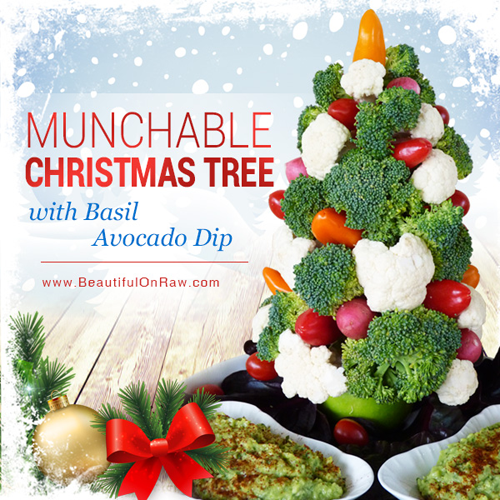 Lose that old lay-down vegetable tray! Why not arrange the vegetables vertically to make a holiday table centerpiece that doubles as a vegetable and dip dish?
Recipe Author: Beautiful on Raw
Preparation Time: 2 hours
Serves: 12 to 15
---
Ingredients for dip:
1 avocado, peeled, pit removed, cut in pieces
1 cup celery, chopped
1 ½ zucchini, chopped
½ cup fresh basil, chopped
2 Tbsp. fresh lemon juice
1 garlic clove, peeled and chopped
small amounts of fresh or dry herbs such as parsley, tarragon, oregano, thyme, marjoram, dill, or any you like
1 Tbsp. scallions, chopped
½ tsp. Celtic sea salt
dash of paprika for garnish.
Ingredients for Christmas tree:
1 green apple
1 big carrot
1 cauliflower, separated into big and small florets
1 big bunch of broccoli, separated into big and small florets
½ cup of red or yellow cherry tomatoes
a few radishes, green stems removed
several mini sweet red, orange, and yellow peppers
several kale, chard, or lettuce leaves
toothpicks.
Directions:
Prepare the basil avocado dip by placing all the ingredients, except paprika, into the blender. Blend till well mixed but still remaining a bit chunky. Transfer to a bowl with a lid. Refrigerate while assembling the Christmas tree. Cut the bottom off the apple so it sits flat on a plate. With a knife, cut a hole in the top of the apple to fit the carrot snuggly. Secure it inside the apple with toothpicks.
Starting with the top, attach the vegetables to the carrot using toothpicks, breaking them to shorten if necessary. Maintain the cone shape of the tree as you keep adding more vegetables. Continue all the way down the carrot and part of the apple. Spread the leafy greens on the plate or tray you are using, and place the tree on top of them. You can keep the tree overnight in the fridge by spraying it lightly with water and covering it with the plastic bag. When ready to present, sprinkle the dip with paprika, and serve it alongside the tree.
Ingredients: avocado, celery, zucchini, basil, lemon juice, garlic, parsley, tarragon, oregano, thyme, marjoram, dill, scallion, sea salt, paprika, green apple, carrot, cauliflower, broccoli, cherry tomatoes, radish, red pepper, orange pepper, yellow pepper, kale, chard, lettuce, toothpicks