Cheese-Filled Endive Appetizer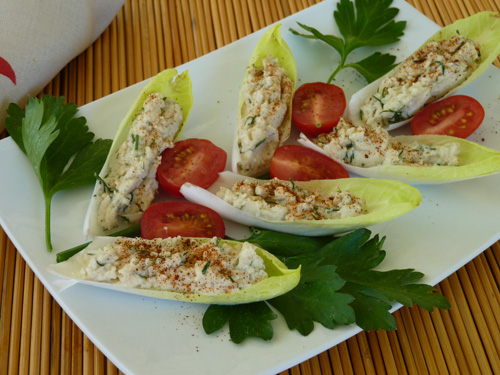 These make fabulous finger foods for picnics, potlucks, receptions, and events of all kinds.
Recipe Author: Beautiful on Raw
Preparation Time: 20
Serves: 4
---
Ingredients:
2 or 3 heads of Belgian endive, separated into individual leaves

2 cups cashews, soaked for 4 hours and drained

1 probiotic capsule (optional), opened

about 1 cup water (just enough to get the blender's blades running)

½ tsp Celtic sea salt, or to taste

3 Tbsp fresh dill leaves without stems, finely chopped, or 1.5 Tbsp of dry dill leaves

pinch of ground paprika.
To make the cashew dill cheese, place soaked cashews, water, probiotic powder and salt in a high-speed blender like the Vitamix. Blend, scraping the blender sides occasionally with a spatula, adding more water if necessary to keep the blades running. Process until the individual nut pieces are well broken up. Transfer to a nut milk bag or cheese cloth and place in a sieve over a bowl. Place a water-filled bowl as a weight on top of the cheese in order to drain off any extra water and leave on the kitchen counter overnight to culture. You may or may not see water drained from the nuts the next day. After 12 to 24 hours transfer cheese to a bowl, and mix in the dill with a spoon. You will get a soft cheese consistency as the end result.
Wash and pat dry the endive leaves. Slice a little from the center rib on the outside, flattening the rib so it sits well on the plate. Use about 1 Tbsp of cheese per leaf. Sprinkle with paprika, arrange on a plate or tray, and serve.
Note: Preparation time is 20 minutes plus soaking and fermenting.
Ingredients: endive, cashew, dill
Recipe Type: Snack, Main Course, Appetizer