Patriotic Bird Bites and Poppers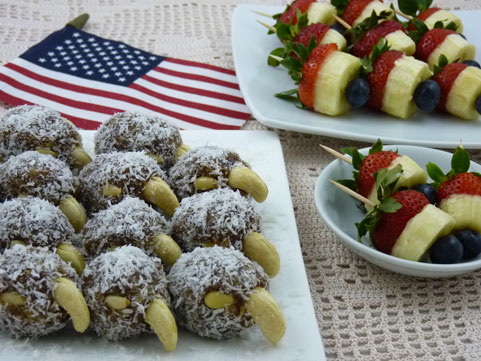 Here are some ideas for any 4th of July party you may be hosting or attending. These finger foods are sure to delight any crowd.
Recipe Author: Beautiful on Raw
Preparation Time: 40
Serves: 6
---
Ingredients:
2 cups walnuts, presoaked and surface-dried in a dehydrator
10 Medjool dates, pits removed
¼ tsp. vanilla powder or 1 tsp. vanilla extract
Pinch Celtic sea salt
Handful of unsweetened shredded coconut
a few pine nuts for eyes
a few cashews for beaks
3 bananas, peeled
2 cups strawberries with stems
½ cup blueberries
lemon juice from ½ lemon
Bird Bites:
Blend walnuts, dates, vanilla and salt in a food processor, until well ground, and the dough starts to clump together. Spread coconut on a plate. Form small balls out of the dough, a little smaller than a walnut, and insert a cashew "beak" and pine nuts "eyes" in them. Roll the ball in coconut flakes and set on a plate.
Patriotic Poppers:
Wash fruit, cut 2/3 off each strawberry leaving the part with the green stem. Cut bananas into circles and dip them into lemon juice to prevent darkening. Skewer a strawberry, banana circle and a blueberry on a toothpick, and repeat until you run out of fruit. Arrange on a plate. The appetizer is ready!
Note: Preparation time is 40 minutes plus time for soaking and dehydrating.
Ingredients: banana, blueberry, cashew, coconut, dates, lemon, pine nuts, strawberry, vanilla, walnut