Creamy Leek Soup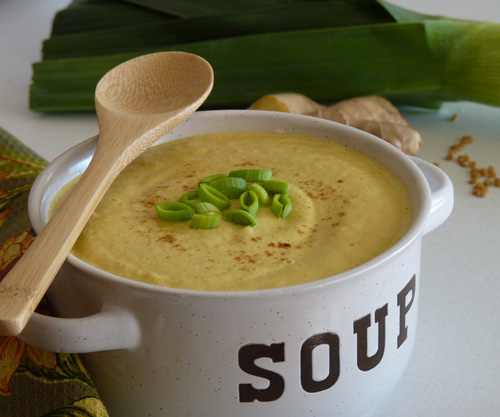 In many parts of the country this soup, served slightly warm, will be very appropriate at this time of the year.  Leftover soup can also double as a dip or salad dressing.
Recipe Author: Beautiful on Raw
Preparation Time: 20
Serves: 4
---
Ingredients:
¾ cup pine nuts or macadamia nuts (soaked a couple of hours)
1 ½ cup fresh coconut water (from 1 young Thai coconut)
1 cup sweet potatoes, peeled and cubed
½ of an avocado, peeled
¼ cup chopped leeks plus a little more for garnishing
1 tsp. ginger, finely chopped
1/2 tsp. or more ground cumin
1 tsp. ground fenugreek seeds, ground in a coffee grinder
¾ tsp. Celtic sea salt, or to taste
pinch of Cayenne pepper for garnishing
Place all ingredients in a high-speed blender and blend until smooth. Run the blender a little longer if you'd like your soup warm.  Garnish with chopped leeks and a pinch of Cayenne pepper.
Ingredients: avocado, coconut, cumin, ginger root, leek, macadamia nuts, pine nuts, sweet potato
Recipe Type: Soup