Dill Pickles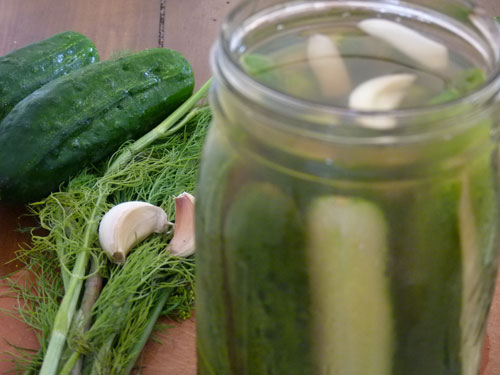 If you have been on raw foods for a while, and the emotional attachment to food that you had while transitioning is over, then you might not be having images of pickles floating in your mind's eye. But if you are a newcomer to raw, then the best way to deal with pickle cravings is with … pickles in the raw, and here's the recipe.
Recipe Author: Beautiful on Raw
Preparation Time: 20
Serves: 6
---
Ingredients for 1 quart size jar:
3 big pickling cucumbers or 5-6 smaller ones, quartered
3 garlic cloves, peeled and quartered
a small bunch of dill stalks
2 grape leaves, if available
1 ¼ cup filtered  water
2 tsp. Kosher or sea salt
3/4 cup apple cider vinegar
a few black peppercorns
Thoroughly wash the 1 quart jar. Wash the cucumbers, and slice them in quarters lengthwise.  Place some dill and 1 grape leaf on the bottom of the jar, then add cucumbers and garlic, until all the spears fit tightly in the jar. Prepare the pickling brine, by adding salt, vinegar and peppercorns to the water and mixing well. Pour into the jar to cover all the cucumbers. Add another grape leaf and dill twigs to the top of the jar, leaving as little space as possible, and close the lid loosely. Set aside at room temperature for a few hours, then tighten the lid and put in the refrigerator for the rest of the pickling time.  They will be ready in 2-3 days.
Note:
Preparation time is 20 minutes plus pickling time.
Ingredients: apple cider vinegar, cucumber, dill, garlic
Recipe Type: Snack