Zucchini Garlic Rolls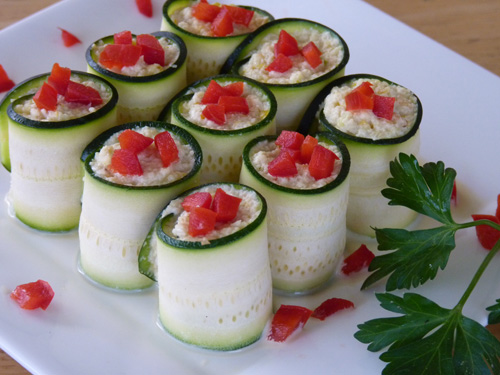 Another idea for an appetizer to add to your arsenal of quick raw food recipes — this one with the power of raw garlic to keep you healthy during the flu season.
Recipe Author: Beautiful on Raw
Preparation Time: 20
Serves: 3
---
Ingredients:
1 zucchini, sliced with mandolin slicer or peeler into thin wide ribbons
½ cup shelled pine nuts, soaked for an hour
½ of a celery stalk, chopped
½ cup yellow bell pepper, chopped
3 garlic cloves, peeled and chopped plus 1-2 more crushed through a garlic press for rubbing the zucchini slices
½ tsp. pink Himalayan salt
½ tsp. fresh lime juice
a little red bell pepper and/or greens, chopped, for garnishing
Combine the pine nuts, celery, yellow bell pepper, 3 garlic cloves, salt and lime juice in a food processor, and blend until it reaches the consistency of a pate (add more nuts if you need to thicken it a bit, or add lime juice to water it down). Rub the inside part of the zucchini ribbons with garlic crushed through the garlic press. Spread some pate along the length of the ribbon, and form a roll. Arrange on a plate, sprinkle with chopped red bell pepper, and serve.
Ingredients: celery, garlic, lime, pine nuts, sweet pepper, zucchini
Recipe Type: Main Course, Snack