Raw Vegan Sushi with Spicy Mustard Sauce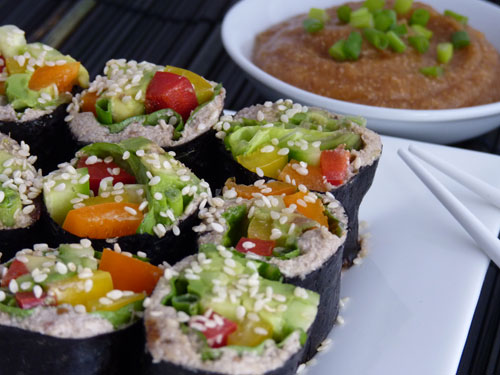 Enjoy the familiar taste of sushi minus the cooked rice. Our raw sushi is just as delicious as the traditional version, and a little practice will make you into a perfect sushi roller in no time.
Recipe Author: Beautiful on Raw
Preparation Time: 60
Serves: 4
---
Ingredients for Spicy Mustard Sauce
4 Medjool dates, pre-soaked, pits removed
¼ cup fresh squeezed orange juice
4 Tbs. lime juice
1 Tbs. + 1 tsp. mustard seeds, ground in a coffee grinder
1 Tbs. apple cider vinegar
2 Tbs. olive oil (optional)
pinch Celtic sea salt
Ingredients for Sushi:
1 cup cauliflower, roughly chopped
1 cup sunflower seeds, soaked for a few hours, then drained and rinsed
2 cloves garlic, finely diced
4 Medjool dates, chopped
1 tsp. Celtic sea salt
2 Tbs. fresh lime juice
¼ cup raw sesame tahini
1/8 cup water
untoasted Nori sheets
cucumbers
avocado
lettuce
sweet bell peppers
any other vegetables or greens you like, such as zucchini, carrots, sprouts, green onions, etc)
hulled sesame seeds to garnish
To make the mustard sauce, blend all sauce ingredients together in a powerful blender until smooth. Transfer to a bowl, and keep in the refrigerator until ready to serve. To make the sushi mix, blend cauliflower in a food processor until it reaches the small grain consistency. Put aside. Place the sunflower seeds, garlic, dates, salt, lime juice, tahini and water in the food processor, and blend well. Add cauliflower, and process once more. Add more water if necessary, to achieve the consistency of thick cream. Transfer to a bowl. Cut the vegetables for sushi in the shape of matchsticks or long strips. Take a sushi mat, place a Nori sheet on top of it shiny side down, spread the sushi mix onto the lower half of the sheet, leaving 1/3 inch at the very bottom of the Nori sheet uncovered, and then arrange the vegetables on top of the mix. Roll the sheet away from you together with the mat at first, and then proceed making a roll. Moisten the top edge of the Nori sheet with a little water to seal your sushi roll. Cut with a serrated or very sharp knife into individual sushi pieces just before serving. Serve with the spicy mustard sauce.
Note: Preparation time is one hour, plus soaking time.
Ingredients: avocado, cauliflower, cucumber, dates, garlic, lettuce, lime, nori, orange, sesame, sunflower seeds, sweet pepper, tahini, vinegar
Recipe Type: Main Course, Snack