Apple Fig Bites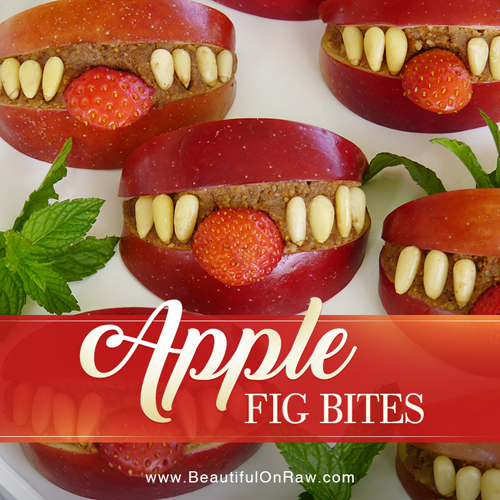 Sink your teeth into these guilt-free, fun Halloween snacks sure to please kids and adults alike.
Recipe Author: Beautiful on Raw
Preparation Time: 40 minutes, plus time for soaking and dehydrating.
Serves: makes about 22 to 30 treats.
---
Ingredients:
1 cup walnuts, soaked overnight and dehydrated
1 cup (8-10) dried figs, soaked, drained and squeezed well, and chopped
1 tsp. ground cinnamon
pinch sea salt
a few strawberries, hulled and sliced
1/3 cup of pine nuts
4 red or pink apples
2 Tbsp. fresh lemon juice
Directions:
Make a fig paste by combining walnuts, figs, cinnamon and salt in a food processor. Blend till the nuts are ground and mix becomes sticky and forms a ball. Slice the apples into wedges around the core. Dip them in lemon juice to keep from browning and add a touch of sour taste to the bites. Spread the fig paste (about 1 tsp. or so) between two apple wedges to form a mouth, insert a piece of strawberry for a tongue. Add 6 to 8 pine nuts for teeth. Repeat for all remaining apple wedges. Place on a serving dish and share them with your loved ones.
Ingredients: walnut, figs, cinnamon, sea salt, strawberry, pine nuts, apple, lemon juice
Recipe Type: Snack