Kiwi Coconut Pudding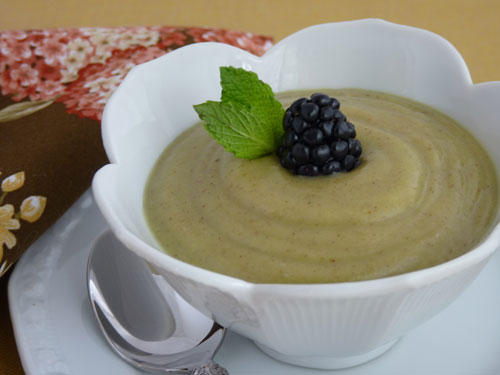 Pudding is the simplest raw dessert you can whip up at a moment's notice. Thick and satisfying, it can replace your whole meal, so not only will you eat your dessert first, but you will eat only dessert!
Recipe Author: Beautiful on Raw
Preparation Time: 10
Serves: 3
---
Ingredients:
1 cup (about 10) Medjool dates, pitted and soaked for an hour or two
1 young coconut (about1 ½ cup water and ¾ cup meat)
5 small kiwi fruits, peeled
½ avocado, peeled and pit removed
1 banana
½ tsp. vanilla powder, or 1 ½ tsp. vanilla extract, or seeds of 1 vanilla bean
Place all ingredients in a powerful blender, and blend together until smooth and thick. For more thickness, add more avocado, and if you need to thin it out, add water reserved from the soaked dates.
Ingredients: avocado, banana, coconut, dates, kiwi, vanilla
Recipe Type: Dessert, Main Course