Berry Striped Popsicles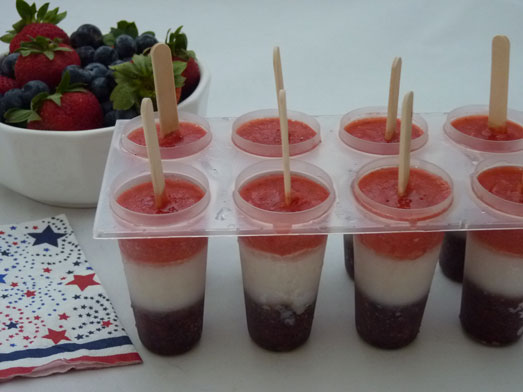 Kids and adults alike are drawn to treats from the freezer on a hot summer day. Our Independence Day version of this popular treat packs in the goodness of fresh berries together with the refreshing taste of coconut.
Recipe Author: Beautiful on Raw
Preparation Time: 15
Serves: 4
---
Ingredients:
1 cup blueberries
1 Tbs. raw honey, divided
1 young Thai coconut
1 cup strawberries, stems removed
Puree blueberries in a food processor with 1 tsp. or more of honey until well blended. Spoon into popsicle molds as the first layer. Freeze for 2 hours until firm. In a high-speed blender, blend coconut water and meat together until it resembles milk. Pour into the molds on top of the blueberry layer, and put back in the freezer for another couple of hours. If using craft sticks, insert them lightly into the coconut layer as it starts to freeze. Puree strawberries with 1 tsp. or more of honey in a food processor, and add as a third and last layer into the molds. Return to the freezer for 2 more hours. Note: Preparation time is 15 minutes plus freezing time.
Ingredients: blueberry, coconut, raw honey, strawberry
Recipe Type: Dessert