Pumpkin Pie Smoothie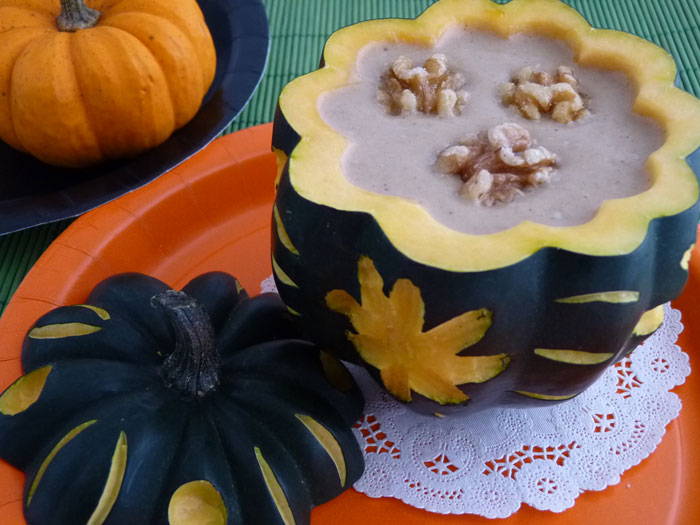 You don't need any special skills to make simple containers for a special holiday breakfastor Halloween party treat – pumpkin pie smoothie. It will taste good in any vessel you choose to serve it in. You might find your family enjoys "liquid" pumpkin pie so much, that it will become your daily fare when you can get a hold of pumpkins this season.
Recipe Author: Beautiful on Raw
Preparation Time: 25
Serves: 4
---
Ingredients:
1 cup almonds, soaked
2 cups water
5 dates, soaked, pit removed
pinch salt
1 cup pie pumpkin, peeled and cut into pieces
1/3 cup chopped coconut "meat"
1 ½ frozen bananas
½ tsp. ground cinnamon
½ tsp. vanilla extract
1/8 tsp. ground nutmeg
1/8 tsp. ground ginger
Pinch allspice
Pinch ground cloves
Start by making almond milk: combine 1 cup almonds, 2 cups water, pinch salt and 2 dates in a powerful blender, and process until smooth. Strain through a nut milk bag. Return the almond milk to the blender, add the rest of the ingredients, and blend on high until smooth and silky. Adjust spices to taste if desired. Pour into an empty acorn squash container for a seasonal treat. To make a simple container out of an acorn squash, cut about 1/8 in. off the bottom for your squash to be able to stand. Using a sharp paring knife or fruit knife, cut simple designs on the squash (optional). Cut off the top part for the lid. Empty out the orange flesh with a spoon or knife and pour your pumpkin pie smoothie inside. Tastes good, doesn't it?
Note: Preparation time is 25 minutes plus soaking and carving time.
Tips:
Save the almond pulp and use in your recipes that use a dehydrator
Drink the date soaking water or save to use in recipes
Save the pumpkin and squash seeds: rinse off the orange flesh, spread the seeds on a dehydrator sheet and dry. Keep in the refrigerator right in their shells until ready to munch
If you like "spooky" Halloween treats, float  a few walnut half "brains" in the smoothie right before serving
Ingredients: almonds, coconut, dates, pumpkin, vanilla