Persimmon Coconut Cake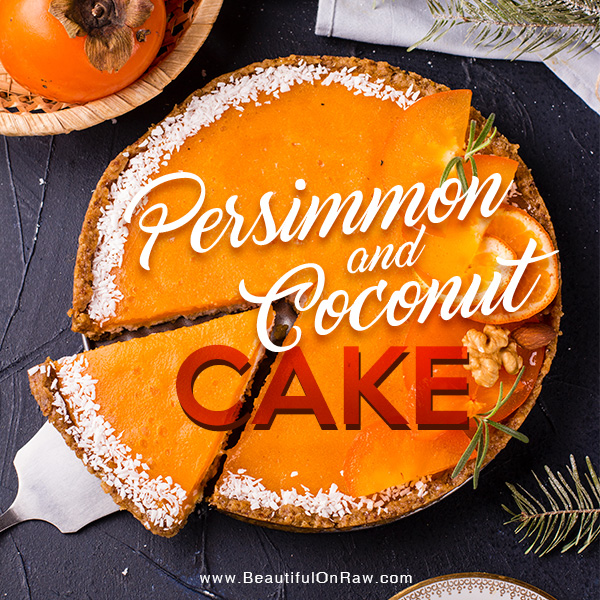 You'll wish you could have this lovely cake all year round. Sadly, you can make it only during the persimmon season, unless you have some frozen ones, as I advised in this article Persimmon Health Benefits. Enjoy it while you can! Mmmm…raw Persimmon and Coconut Cake.
Recipe Author: Beautiful On Raw
Preparation Time:
Serves: 6 to 8
---
Ingredients (for an 8-inch springform cake pan)
Crust:
1 cup walnuts
1/2 cup oats
10 fresh dates, pitted
2 Tbsp coconut oil
1/8 Tbsp sea salt
1/4 Tbsp cinnamon powder
Coconut layer:
1 cup coconut cream
1/2 cup coconut flakes
Persimmon layer:
2 cups persimmon puree
1 Tbsp raw honey
For decoration:
persimmon slices, coconut flakes, rosemary 
Directions:
Start by making the crust. Blend all the ingredients in a food processor. Make a sticky dough. Cover an 8-inch springform cake pan with parchment paper. Press the dough into the bottom and boards of the pan and place in the freezer. 
Mix the coconut cream and coconut flakes. Take the crust from the freezer and pour the filling on top. Place back in the freezer for 1 hour. 
Remove the cake from the freezer and pour the persimmon layer on top. Freeze for about 3 to 4 hours until the cake feels solid. Let thaw for a few moments before slicing and serving. Decorate with persimmon slices. Serve and enjoy!
Ingredients: persimmon, coconut, dates, walnut, oats
Recipe Type: Dessert