Pumpkin Pie Smoothie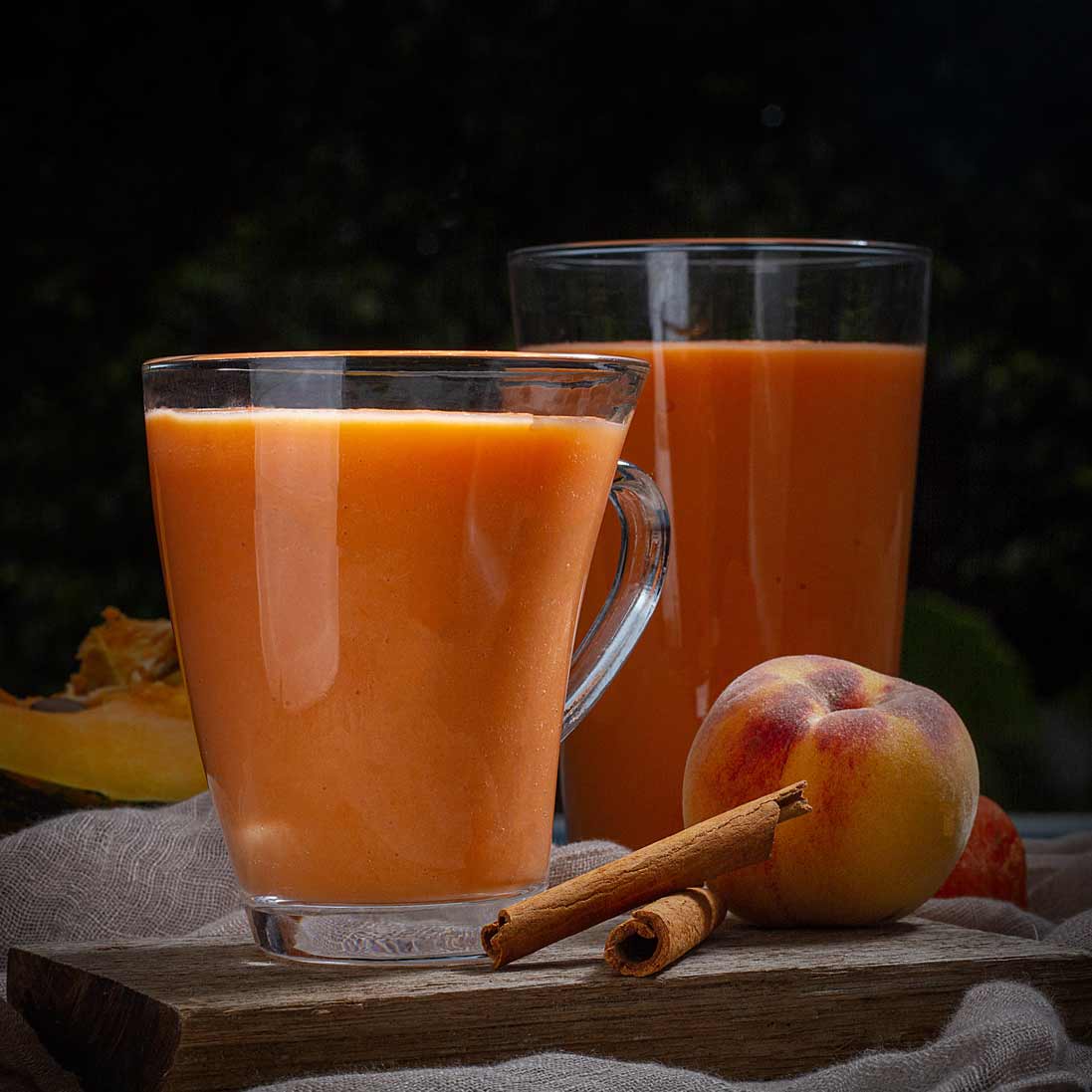 You might not want to make pumpkin pie because you're trying to reduce calorie intake and you're afraid you'll be tempted to eat the whole thing. No problem! Just make this Pumpkin Pie Smoothie. It's still in the holiday spirit and it's actually good for you.
Pumpkins are a good source of vitamins A, C, E, and B, and dietary fiber, too. It offers key minerals and trace elements like iron, calcium, magnesium, phosphorus, copper, manganese, sodium, and zinc. In many cultures, we usually use this seasonal vegetable to make soups or to bake cakes. But it's in its raw form that pumpkin delivers its beneficial components in optimal, unprocessed form. This smoothie mixes all the power of pumpkin, carrot, and peaches. The banana adds creaminess and sweetness to this juice. The delicious result is almost a dessert!
Recipe Author: Beautiful on Raw
Preparation Time: 10 min
Serves: 2
---
Ingredients:

• 1 cup of peeled pumpkin, cubed
• 1 small carrot
• 2 peaches
• 1 peeled banana, frozen
• 1 teaspoon of cinnamon
• a pinch of nutmeg.
Instructions:
Peel the pumpkin and cut it into cubes an inch and a half on a side or smaller. Peel the carrot, and cut it
into thick slices. Cut the peaches in two, and with a sharp knife remove the seed. Pour all the ingredients into the blender jar together—the pumpkin in cubes, the carrot, peaches, bananas, cinnamon, nutmeg, and finally the water. Blend until smooth.
Ingredients: pumpkin, carrot, peaches, banana, cinnamon, nutmeg
Recipe Type: Smoothie