Radish Watermelon Salad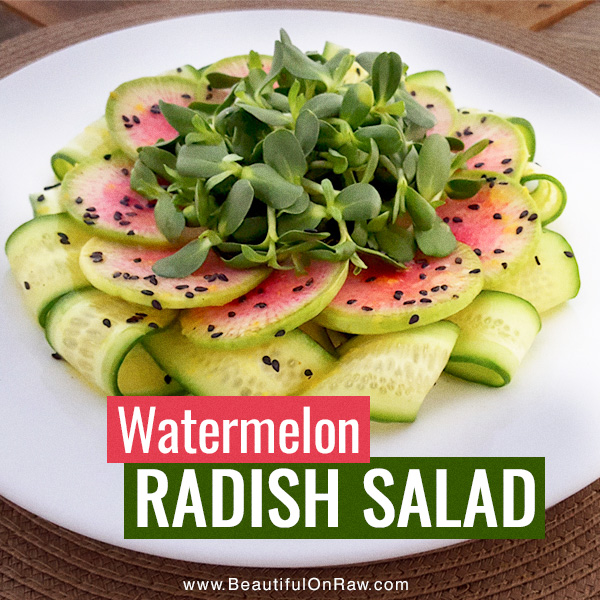 The vibrant color of the radish with the crunch of sunflower sprouts and zesty dressing makes this dish so appealing and refreshing!
Recipe Author: Beautiful On Raw
Preparation Time: 10 min
Serves: 1
---
Ingredients:
2 small cucumbers
1 medium size watermelon radish
1 tsp. black sesame seeds
1 cup of sunflower sprouts
Ingredients for dressing:
1/4 cup of olive oil
1 tbsp. of lemon juice
1 tbsp. honey
1 tbsp. of lemon zest
Salt and pepper to taste
Directions:
Use your mandoline to slice cucumbers into ribbons. Arrange these randomly on your plate, in twists and curls, just for fun. Then slice the watermelon radish into thin rounds and lay them on top of the cucumbers. Next, stack the sunflower sprouts on top.
Now for the dressing…Simply combine all dressing ingredients, mix very well, and sprinkle over your salad. Drop sesame seeds over all, and you're done!
Ingredients: cucumber, watermelon radish, sunflower sprouts, sesame seed
Recipe Type: Salad