Radishes 'n Greens Salad with Creamy Avocado Dressing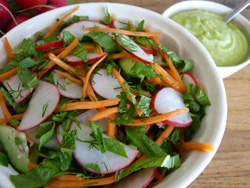 Full of flavor and earthly goodness, this recipe is a hearty welcome to the new growing season and to one of the first food crops of the year – radishes.
Recipe Author: Beautiful on Raw
Preparation Time: 25 min.
Serves: 4-6
---
Ingredients for salad:
1 ½ cup red radishes (about 1 bunch), thinly sliced
green tops from 6 or more radishes, chopped
1 cup cucumbers, chopped
1 ½ cup carrots, julienned
1 handful of fresh mint leaves, chopped
Few sprigs of fresh dill, chopped
Ingredients for dressing:
1 avocado, peeled, pit removed and chopped
3 - 4 Tbs. fresh lemon juice
¾ cup cucumber, peeled and chopped
1/3 to ½ tsp. Celtic sea salt
1 clove garlic, peeled and minced
1-2 Tbs. fresh orange juice.
Directions:
Prepare the avocado dressing by combining all ingredients in a food processor, and blending well. Adjust the amount of salt and lemon juice if necessary. For salad, put all salad ingredients in a big bowl, mix well, and combine with the salad dressing just before serving.
Ingredients: red radish, cucumber, carrot, mint leaves, dill, avocado, lemon juice, sea salt, garlic, orange juice
Recipe Type: Salad