Raw Matcha Cheesecake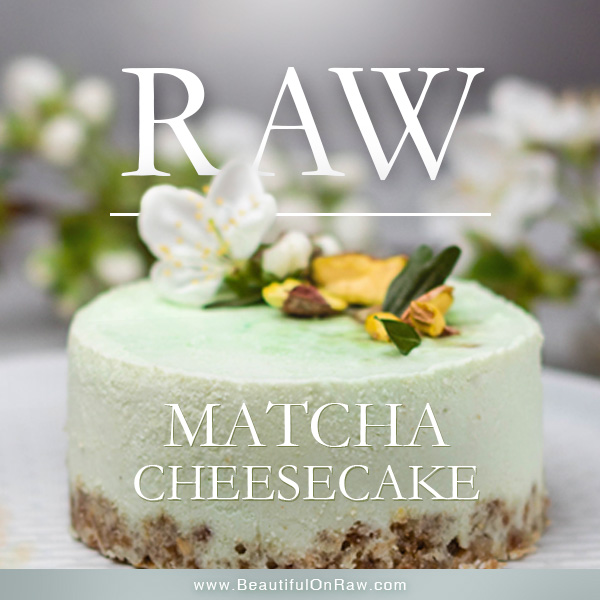 There's been lots of buzz lately about matcha tea. If you want to wean yourself off coffee, matcha makes a great alternative.
It has one fifth the caffeine of your cappuccino. It provides sustainable energy, without the spike and later crash that coffee brings, with three times the antioxidants of regular green tea. It contains high levels of chlorophyll. And its polyphenols, called catechins, have possible cancer-preventive properties.
Talk up these details of matcha tea to your guests as you serve them this delicious raw cake at a holiday gathering—say, Mother's Day. They'll feel great after a piece of this cake and next time will ask for more!
Recipe Author: Beautiful On Raw
Preparation Time: 30 min
Serves: 6
---
Ingredients for the crust:
10  dates
1 cup almonds
2 Tbsp melted coconut oil
Celtic salt to taste
Ingredients for Filling:
1 cup raw cashews, soaked
1/4 cup coconut milk
1/4 cup raw honey
1/4 cup melted coconut oil
2 tsp lime juice
1 tsp matcha green tea powder
Pistachio and flower petals for garnish
Directions:
Begin preparing the crust by adding almonds, dates, and melted coconut oil to your food processor and blending. Add some Celtic salt to taste. Line 8-inch non-stick springform cake pan with parchment paper. Add the crust mixture and press with your fingers. Place in the freezer to chill.
Add all filling ingredients to a food processor and blend until creamy. Pour the filling into the crust and freeze until set for 2 to 3 hours.
Decorate with petals and pistachio.
Ingredients: dates, almonds, coconut oil, cashew, coconut, lime juice, matcha grean tea powder, pistachio
Recipe Type: Dessert