Sweet Nut Roll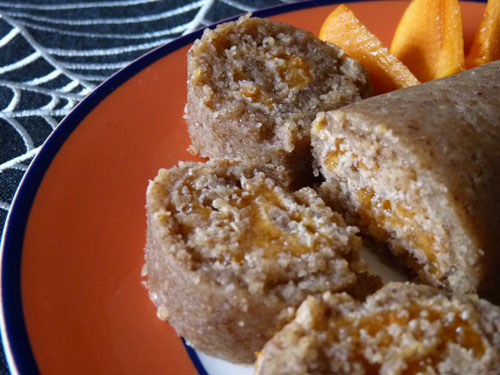 Try this delicious autumn dessert. Pumpkin and persimmons combine for a delightful sweet flavor.
Recipe Author: Beautiful on Raw
Preparation Time: 15
Serves: 4
---
Ingredients:
2 cups walnuts, soaked and then dried in a dehydrator
1 cup pecans, soaked and then dried in a dehydrator
2-3 tsp. raw honey, or to taste, divided
1 cup fresh pumpkin, cut into pieces
1 cup persimmons, peeled and cut into pieces
Blend pumpkin, persimmons and 1-2 tsp. honey together in a food processor. Transfer to a bowl. Next, blend walnuts and pecans in a food processor until they turn into crumbs and start slightly sticking to each other. Add 1 tsp. of honey, and blend some more. Divide the "dough" into 2 parts. Spread each part in a rectangular shape about 3/8" thick on plastic wrap, and then spread a slightly-thinner layer of the pumpkin-persimmon mix on top of the dough. Using the plastic wrap, roll the dough like you would for making a sushi roll, and provide light pressure with your hands. Place the two rolls in the refrigerator for 2 hours before unwrapping, cutting, and serving. Note: Preparation time is 15 minutes plus time for soaking, dehydrating and refrigerating.
Ingredients: pecans, persimmon, pumpkin, raw honey, walnut
Recipe Type: Dessert