Raw Ranch Dressing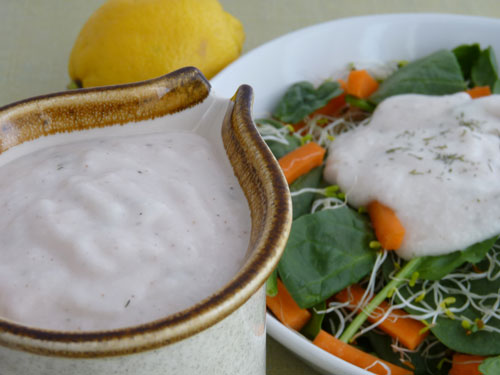 Ranch, a universal salad dressing, lovingly prepared at home from raw ingredients, will delight your taste buds and help you eat more greens without the detrimental effect of the unhealthy oils and additives of a commercial dressing.
Recipe Author: Beautiful on Raw
Preparation Time: 15
Serves: 4
---
Ingredients:
"meat" of 2 young Thai coconuts (about 1 ½ cups)
3 Tbs. fresh lemon juice
½ tsp. Celtic sea salt
¾ cup fresh coconut water
¾ tsp. granulated garlic powder, or  1 clove garlic, minced
small pinch of black pepper
1 tsp. dry or 2 tsp. fresh herbs of choice (dill, rosemary, basil, sage, oregano, parsley, cilantro, etc.)
Place all ingredients except the herbs in a high-speed blender and blend on high until smooth. Add the herbs, and blend again until the herbs are just mixed in. Pour into a container, and serve with your favorite salad. The dressing will keep well for a few days in the refrigerator.
Ingredients: coconut, garlic, lemon
Recipe Type: Dressing