Watermelon Cucumber Salad with Ginger Lime Dressing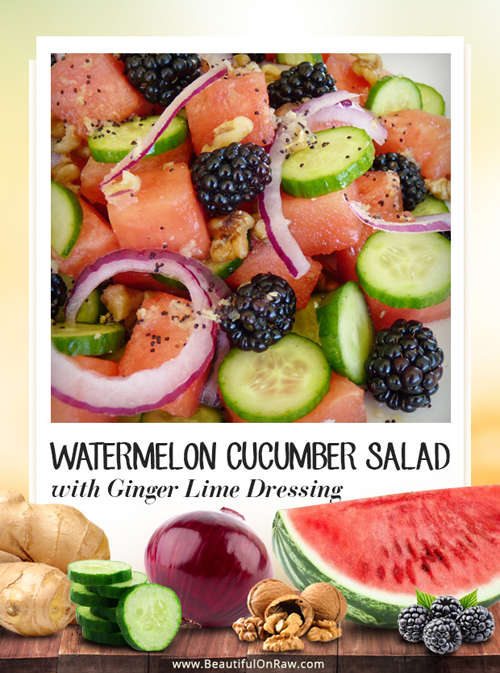 Refreshing summer salad combining sweetness of watermelon and berries with the zing of ginger and lime.
Recipe Author: Beautiful on Raw
Preparation Time: 15 min. plus time for soaking and dehydrating nuts
Serves: 3-4
---
Ingredients:
4 cups of watermelon, peeled and cubed
1 ½ cup of small-sized cucumbers, cut into circles
1/3 cup of red onions, peeled and thinly sliced into semi-circles
½ cup walnuts, soaked, dehydrated and roughly chopped
1 cup blackberries
Dressing:
2 Tbs. fresh lime juice
1 Tbs. raw honey
1 tsp. poppy seeds
2 tsp. ginger root, finely grated
Directions:
Prepare salad dressing by mixing the dressing ingredients by hand in a bowl, or in a mini food processor. Combine salad ingredients in a big bowl, pour salad dressing over it, gently fold it in, and serve.
Ingredients: watermelon, cucumber, red onion, walnut, blackberry, lime juice, raw honey, poppy seed, ginger root