Russian-Style Layered Mushroom Salad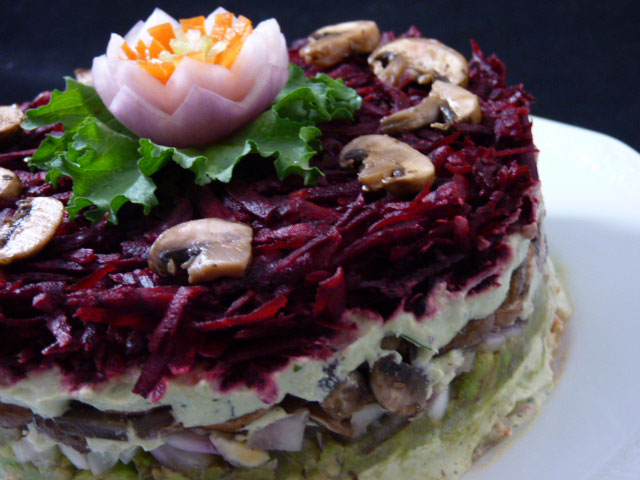 Tired of traditional salads? This recipe puts a whole new spin on the salad theme. The idea for this festive layered salad comes from Russian cuisine. Traditional Russian salad recipes often include herring, boiled potatoes and mayonnaise. But this healthy variation is chock full of raw goodness. Instead of cooking vegetables, use them in their raw state. Let mushrooms be the substitute for herring and have the avocados stand in for potatoes—more tastily, too! No mayo, either—instead, a nut-based dressing.
Recipe Author: Beautiful on Raw
Preparation Time: 60
Serves: 6
---
Ingredients for the salad:
4 cups button or crimini mushrooms, sliced
2 cups carrots, grated
2 cups beets, grated
3 small or 2 big avocados, peeled, pits removed, and mashed with a fork
¾ cup red onion or shallots, finely chopped
½ tsp. Celtic sea salt
juice of 1 lemon
Ingredients for the dressing:
1 cup cashews, soaked for 2 hrs.
1 cup pine nuts, soaked for 2 hrs.
¾ cup water
2 Tbsp. scallions, finely chopped
1 ½ Tbs. lemon juice
1 tsp. Celtic sea salt
2 cloves garlic, minced
1 Tbs. fresh dill, finely chopped
1 Tbs. basil leaves, finely chopped
1. Marinate the sliced mushrooms in lemon juice and salt for a few hours.
2. Prepare the dressing by putting all the dressing ingredients into a high-speed blender and processing until you get a homogenous mix with a thick creamy consistency. Add more water if necessary. Transfer to a bowl.
3. Place all salad ingredients in separate bowls, and decide on the order of your layers. Reserve some of the ingredients for garnishing on top. The idea is to assemble the salad in layers, alternating them with the dressing. You can use a see-through salad bowl for this salad, or a 7-inch springform pan. If using the pan, pack the ingredients tightly, especially near the edges, since the salad would need to keep its shape when taken out of the pan.
4. The following sequence of layers was used for this recipe in the springform pan: Mushrooms - Dressing - Onions - Avocados - Dressing - Carrots - Dressing. At this point turn the salad over onto the serving plate, release the clamp on the pan and carefully slide the sides and the top off. You have mushrooms as the top layer now. Place the side part of the pan back on and continue assembling the salad.  Next layers: Dressing -  Beets. Remove the pan, and decorate your salad any way you wish.
Note: Preparation time is 1 hour plus soaking and marinating time.
Ingredients: avocado, basil, beetroot, carrot, cashew, dill, garlic, green onion, lemon, mushrooms, pine nuts, red onion
Recipe Type: Dressing, Main Course, Salad