Sweet Potato Hashbrowns with Mushroom Gravy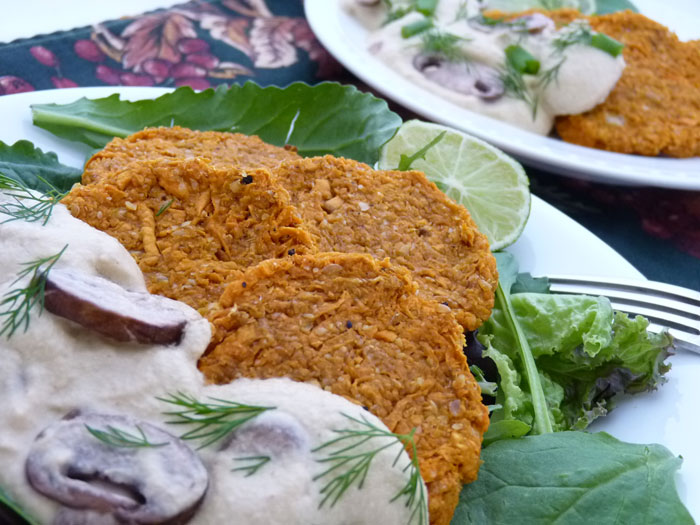 Who would miss potatoes on a raw diet when they can make these sweet potato hashbrowns? Served with a side salad or simply on a bed of greens, they provide a satisfying meal reminiscent of those ole cooked times, minus the heavy feeling in the stomach and any sense of guilt from destroying the vital nutrients by high heat.
Recipe Author: Beautiful on Raw
Preparation Time: 75
Serves: 5
---
Ingredients for patties:
6-7 cups of sweet potatoes/yams, peeled
1 medium yellow onion, peeled
½ cup golden flax seeds, ground
1 tsp. Celtic sea salt
½ tsp. garlic powder
freshly ground black pepper to taste
juice of ½ lemon
Ingredients for mushrooms marinade:
10 crimini mushrooms, sliced
1 tsp. Celtic sea salt
1 Tbs. red onion, minced
1 1/2 Tbs. fresh lemon juice
1 Tbs. olive oil (optional)
Ingredients for gravy:
1 cup cashews, soaked for a few hours, drained and rinsed
¾ cup water
1 cup zucchini, peeled and roughly chopped
2 cloves garlic, peeled and diced
1 tsp. fresh lemon juice
½ tsp. paprika
½ tsp. ground flax seeds
½ tsp. sea salt or to taste
pinch of black ground pepper
Using a food processor, shred the sweet potatoes, and transfer them to a bowl. Shred the onion the same way and add to the sweet potatoes, mixing them together with a fork. Put half of the sweet potato onion mix back into the food processor equipped with an S-blade, and blend well, making a fine mix, until the shreds are no longer distinguishable. Return this well-blended mix back to the bowl, and mix with the rest of the potato-onion mix. Add the remaining patty ingredients, and thoroughly mix once again. Form patties with your hands, and place on non-stick sheets in the dehydrator. Dehydrate at 105 F for about 6-7 hours, flip them over directly onto the mesh trays, and continue dehydrating for another 5-6 hours until the patties are dry on the outside and somewhat moist on the inside. Marinate the mushrooms in sea salt, lemon juice, red onion and olive oil mix for 30 min. Blend all the gravy ingredients together using a high-speed blender until creamy in texture. Adjust salt to taste at this point. Transfer gravy to a bowl. Drain the mushrooms, and gently stir them into the cream. Sprinkle fresh herbs on the gravy just before serving. Hashbrown patties and gravy can be served cold, or you can warm up this dish by placing it in the dehydrator for 1-2 hours.
Note: preparation time is 1 hr. 15 min. plus soaking and dehydrating time.
Ingredients: cashew, flax seeds, garlic, lemon, mushrooms, red onion, sweet potato, yellow onion, zucchini
Recipe Type: Main Course