Vegan Pad Thai for Two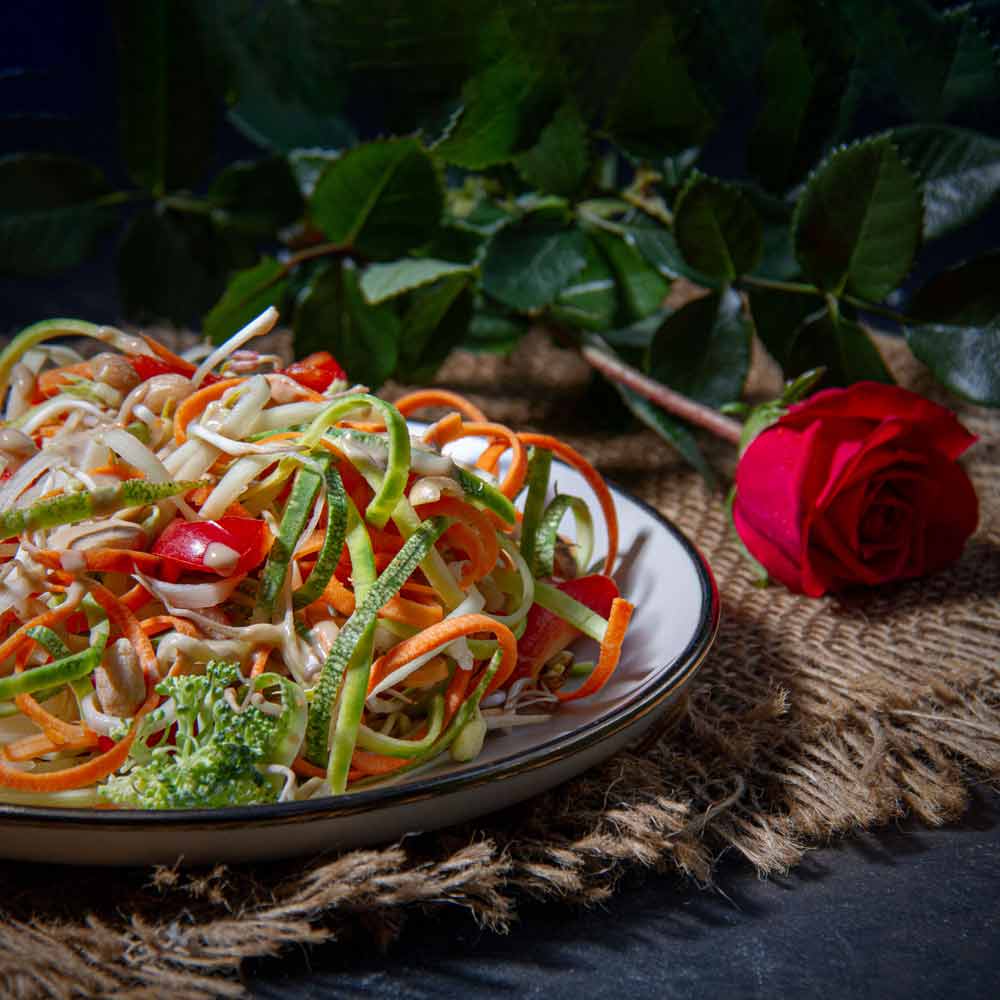 You'll find no more universal dish in Thailand's cuisine than Pad Thai. Though generally made with rice paste, vegetables, and shrimp, it comes in as many variations as there are Thai households. Here's a raw vegan version that's finger-licking good. The dish artfully blends Asian flavors with vegetables.
This recipe is ideal for a romantic dinner, where you'd want to share delicious dishes while eating healthy. We substitute coconut for soy, and noodles made from zucchini, carrots, and sprouts for the usual rice noodles. Try this one on Valentine's Day!
Recipe Author: Beautiful on Raw
Preparation Time: 15 min
Serves: 2
---
Ingredients
For the Pad Thai:
⅔ cup of sprouted beans
1 large zucchini
1 large carrot
½ red bell pepper
3 florets of broccoli
½ cup of peanuts
For the sauce:
2 tbsp peanut butter
2 tbsp coconut aminos
1 Tbsp lime juice
1 Tbsp raw honey
1 Tbsp of vinegar
½ Tbsp grated raw ginger root
1 small garlic clove, minced
2 Tbsp sesame oil
2 Tbsp of water
Salt to taste
Instructions
For the sauce: 
In a small bowl, mix all the sauce ingredients—peanut butter, coconut aminos, lime juice, raw honey, vinegar, grated ginger, sesame oil, crushed garlic clove, water, and a pinch of salt. Stir and save.
For the Pad Thai: 
Peel the carrot and grate it with the spiralizer into thick noodles. Wash the zucchini and grate it, too, including the skin. Cut the paprika into thin strips and cut the
broccoli florets into small bites. Next, put all the vegetables in a large bowl, add the peanuts and bean sprouts, and stir well. Top with the sauce when you're ready to serve.
Note: If you like, add chives or sesame seeds on top.
Ingredients: garbanzo beans, zucchini, carrot, red bell pepper
Recipe Type: Main Course